Grossauer - Basil Pesto - 180 g - Glas
9,40 EUR
5,22 EUR per 100 g
What's that delicious?
Best basil pesto from Grosshauer Edelkonserven from the Kamptal in Austria. How good a pesto actually could be? Try Grosshauer's and get a reference for basil pesto. Almost like pesto alla genovese, but without garlic. Simply over your pasta. Very tasty!
Charming show-off knowledge:
Did you know that pesto means "crushing" in Italian? Makes sense too. Especially on delicious pasta! P.S.: Pesto without a good matching pasta is really sad. That's why we have really good pasta. Right there on the shelf...
Distributor:
Stefan Grossauer KG Bergstraße 14 3562 Schönberg Austria
Note: Image may differ from original in shape and color. No liability is assumed for the above information. Only the information on the respective product packaging is binding. Please check these in individual cases.
Ingredients:
olive oil(40%), basil(27%), pine nuts, Grana Morovia, salt, verjus
Allergenes:
pine nuts, Grana Morovia (milk product, hard cheese)
This product contains on average:
| Nutrition Facts | per 100g |
| --- | --- |
| Energy | 2470KJ/591kcal |
| Fat | 61,6g |
| of which saturated fat | 11,2g |
| Carbohydrate | 2,3g |
| of which sugars | 1,1g |
| Protein | 9,1g |
| Salt | 1,6g |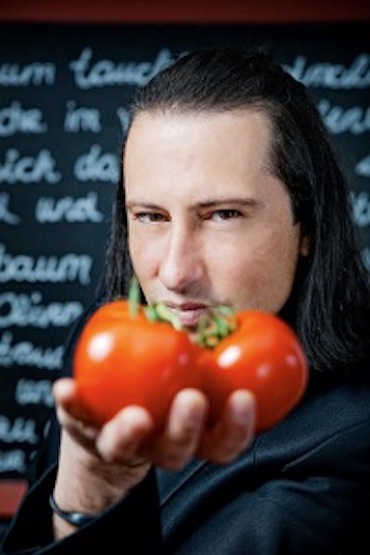 Guido Vinci
Guido Vinci (Jg. 1970) stammt zwar von der berühmten Familie Leonardo da Vincis aus Florenz ab, kommt aber aus Süditalien – genauer gesagt aus Apulien und ist in der Nähe von Bari aufgewachsen. Die Genialität seiner Vorfahren hat Guido in die Küche geführt. Bereits als kleiner Junge fängt er Fische und bereitet sie für seine Freunde und sich zu - mit bestem apulischen Olivenöl und Kräutern aus dem eigenen Garten. Zu den heimischen Zutaten kommen bald Aromen aus aller Welt, denn Guido geht auf Reisen – nach Südostasien, Mittel- und Südamerika und lässt sich kulinarisch inspirieren. 2000 zieht es den Süditaliener schließlich nach Berlin. Guido arbeitet als Küchenchef in mehreren Szene-Restaurants und hat die Cucina Italiana in Berlin zu einer einzigartigen italienischen Kreativküche entwickelt. Mit dieser Kochkunst hat er bereits halb Hollywood verführt u.a. Katie Holmes & Tom Cruise, Quentin Tarantino, Natalie Portmann, Clive Owen und Robert Redford.