2019 Seckinger R Rosé Pure Pfalz
12,95 EUR
17,27 EUR per l
Attention! The R Rosé Pure by the Seckinger brothers is a very original, serious wine and no banal pink juice. This wild blend of Pinot Noir, Cabernet Sauvignon, Regent and Dornfelder from Ruppertsberg sites is a lot of fun. It smells of red berries, fresh herbs and freshly cut grass. In the mouth, it is lively, svelte and light with great drinkability..
Bottler: Weingut Seckinger, Hintergasse 26, 67150 Niederkirchen bei Deidesheim, Germany
Note: Image may differ from original in shape and color. No liability is assumed for the above information. Only the information on the respective product packaging is binding. Please check these in individual cases.
Allergenes:
Contains sulphites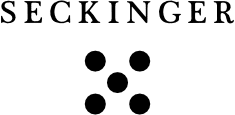 Seckinger
Until a few years ago, the Seckinger winery was only known to insiders. Now they are literally on everyone's lips. The three brothers Jonas, Philipp & Lukas from Niederkirchen in the Palatinate have founded their own business within a few years, in addition to studying viticulture and gaining work experience, and have catapulted themselves into the first rank of Palatinate winemakers by now. What started out very small with one hectare in 2012 has since grown into a company that produces exciting German natural wines on about twenty hectares. Wines that set standards. The three brothers cultivate a whole series of vineyards around the towns of Deidesheim, Ruppertsberg, Königsbach and Niederkirchen. From the very beginning, the vineyards have been consistently cultivated organically and biodynamically. The Seckingers devote a lot of time to the reclamation of overgrown, terraced slopes on the edge of the Haardt in the Palatinate. In the wine cellar, the Seckinger brothers continue their work consistently. They do so, without using technical aids, and for their Pure line, they even renounce using sulphur. This also means spontaneous fermentation, sometimes maceration times for the whites and long yeast storage for all wines. This requires very precise, clean work with extremely healthy grapes. Since the wines from the Pure line are bottled unfiltered, they are not allowed to bear a place name. The Seckingers circumvent this restriction by using letter codes such as DD for Deidesheim and R for Ruppertsberg. The result is very harmonious, self-contained wines of great radiance and tension. For all their consistency, their wines always remain accessible. A true recommendation, especially for those new to natural wines. We are curious to see how the three brothers will continue on their path. They already have made enough plans for the next decades.
Customers who bought this product also couldn't resist the following:
11,95 EUR
47,80 EUR per l