Korean Feast in English
Cooking class in English
Korean Feast in English
share to care
with Woo Sang Cho
Make your own traditional Korean Feast dishes with master Woosang. Korean Food is about sharing with your family and friends.
Important rules due to Corona
We ask for your understanding that we have to adapt our protection and hygiene concept to the current situation. Please inform yourself shortly before your visit about the current regulations under the following link:
https://docs.google.com/document/d/1N9NuWXmdQa19LCNbbz5qdep-qmvhG63wLo45NlL1jG4/edit?usp=sharing
Menu (example):
Classic Bulgogi
Jap Chae: Stir fried Korean glass noodle
HaeMul PaJeon: Seafood Pancake
Kimchi: speedy version
Steamed Rice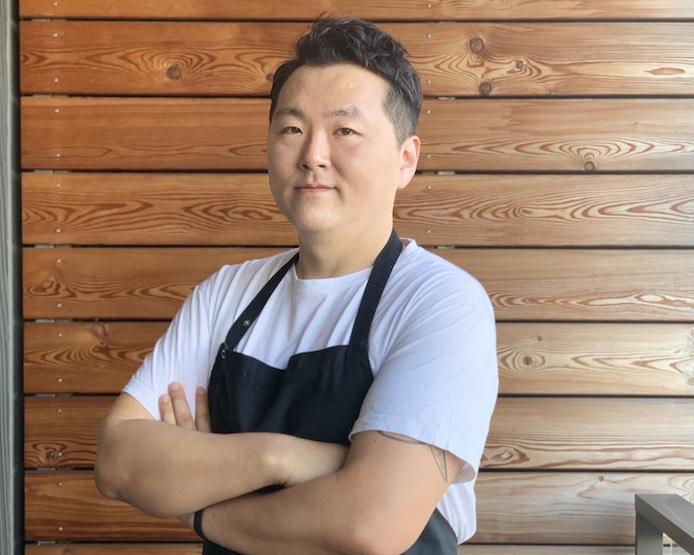 Woo Sang Cho
Woo Sang Cho is a Korean chef, who is certified in Korean, Chinese and French cuisine. He has been trained as chef in London and holds a diploma in Advanced Culinary Art from Westminster Kingsway College, London.
After having worked in several Restaurants for 15 years, he opened his own Restaurant in Seoul. Now he has moved to Berlin and is looking forward to introducing the adventures of Korean cuisine to the Berliners. More impressions of his wonderful dishes you can get on his instagram account.
Photo: Woo Sang Cho
Class type:
Cooking in groups — In this class you will form small groups and each group will be cooking some of the dishes listed in the menu. The other dishes will be cooked by your fellow cooking class participants. However, important steps and basic techniques will be demonstrated in front of the entire class and/or practiced together. Of course you will also see and hear what is going on around you and you are very welcome to ask the teacher questions. The class is designed for you to experience diverse dishes and menu components.
Duration:
Generally 3.5 to 4 hours (no guarantee).
Menu (example):
Classic Bulgogi
Jap Chae: Stir fried Korean glass noodle
HaeMul PaJeon: Seafood Pancake
Kimchi: speedy version
Steamed Rice