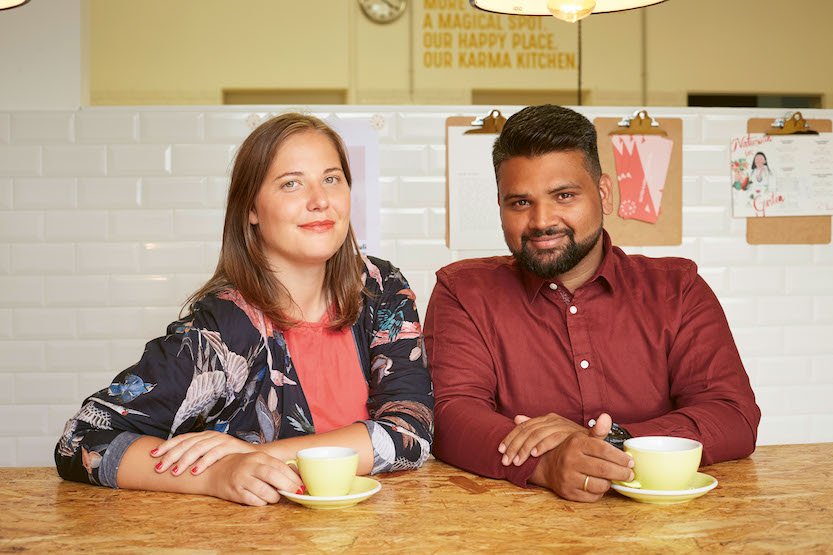 Simone und Adi Raihmann - Karma Food (

1

Products)
2014 haben sich Simone und Adi Raihmann ihren gemeinsamen Traum vom eigenen Deli erfüllt, mit der täglichen Mission Menschen mit Karma Food (noch) glücklicher zu machen - sei es mit leckerem, gesundem Essen, einem offenen Ohr oder einem Lächeln. Mittlerweile gibt es 7x Karma Food in Wien und Umgebung sowie ein Kochbuch «Karma Food ~Ayurvedisch - Vegetarisch - Vegan.» (im Brandstätter Verlag), in dem die beiden ihre Passion für ayurvedisches Health Food mit der Welt teilen.
Adi stammt aus dem Punjab und mit seiner Ausbildung zum Ayurvedic Chef hieß es für ihn 'Back to the Roots'. Gemeinsam mit seiner Karma Crew kocht er täglich leckere Gerichte voller Nährstoffe und einer extra Portion Good Karma. Simone ist ständig am Tüfteln, Probieren und neue (kulinarische) Trends Studieren. Sie experimentiert gerne mit Fermentation, Single Origin Coffee lässt ihr Herz höher schlagen und zu einem guten Essen mit Familie und Freunden findet sie besonders ein Glaserl Naturwein fein.
Freut euch also auf einen vielseitigen, spannenden Kochabend mit den beiden!
Foto: Simone und Adi Raihmann / Brandstätter Verlag