Wine and Dine: Chianti aus der Toscana
Saturday, April 25, 2020 at 18 h
Seminar and tasting in German
Wine and Dine: Chianti aus der Toscana
Weintasting und Dinner
with Roberto Bianchi und Lisa Shoemaker
Ein einmaliger Abend im Goldhahn und Sampson: Es gibt ein italienisches 4-Gänge-Menü, gepaart mit großartigen Chianti Classico aus der Toascana. Roberto Bianchi kommt aus Radda in Chianti vom Weingut Val delle Corti in der Toascana.
Roberto Bianchi kommt vom Weingut Val delle Corti zu uns nach Berlin, begleitet den Abend und hat eine tolle Auswahl seiner Weine im Gepäck. Natürlich perfekt abgestimmt auf das Menü. Roberto spricht über Val delle Corti, die Weinen, die Geschichte des Chianti, den Bioanbau und andere spannende Themen wie den Einfluss des Klimawandels auf den Weinanbau und Nachhaltigkeit im Weingut. Es wird ein genussvoller, lehrreicher und vinophiler Abend.
Der Weinabend ist für Vegetarier leider nicht geeignet.
(Kein Kochkurs)
Menu:
Antipasto: Crostini di fegato e pesto di pomodoro (mit Leber und Tomaten)
Primo: Pasta mit Wildschwein oder Hase (je nach Marktlage)
Secondo: Tagliata die Manzo con Rucola (Kurzgebratenes vom Rind auf Rucola)
Finale: Käseteller mit Pecorino
Roberto Bianchi und Lisa Shoemaker
Roberto Bianchi
Roberto und seine Frau Lis haben das Weingut von Robertos Eltern 1999 übernommen, mit der Zeit haben sie das Potential des Gutes voll entwickelt und eine Spitzen-Weinproduktion auf höchstem Niveau erreicht. Val delle Corti gehört inzwischen zu den besten Weinen Italiens, speziell der Sangiovese Weine des Chianti Classicos aus Radda in Chianti.
Über das das Weingut
"Leidenschaft, Kompetenz, agronomische Sensibilität, große Hingabe und absoluter Respeckt für 'Terroir' und Umwelt machen aus diesem Weingut eines unserer bevorzugten der Toskana." Slowine
Vor 2700 Jahren siedelten die Etrusker auf dem Hügel oberhalb von Val delle Corti, wo sie bereits die ersten Weinstöcke anpflanzten. Wir bewohnen dieses antike Land wie diskrete und respektvolle Gäste, beobachten es aufmerksam, um es immer besser zu verstehen. Mit der Erkenntniss des wahren 'genius loci' versuchen wir, ihn zu seiner vollen Entfaltung zu bringen. Der 'genius loci' von Val delle Corti, von Radda, ist der Sangiovese. Wir arbeiten mit Leidenschaft und Glück an seinem Potenzial. Mit dem Bioanbau und der Biodynamik bemühen wir uns der Natur und Geschichte unseres Territoriums respektvoll zu begegnen und ernten die Trauben als Dank.
https://www.valdellecorti.it/de/lazienda.html
Lisa Shoemaker
Als deutschstämmige Amerikanerin Upstate New York geboren, wuchs Lisa zwischen Semmelknödeln und Hamburgern auf und lebt heute in Berlin, wo sie mit Kindern, Jugendlichen und Erwachsenen kocht und bäckt. Außerdem schreibt und übersetzt sie Kochbücher. Eigene Werke: Let's Cook (für Jugendliche) und Englisch kochen und Amerikanisch kochen aus der Reihe Gerichte und ihre Geschichte. Übersetzt hat sie u.a. Cynthia Barcomis Bücher.
Class type:
Cooking in groups — In this class you will form small groups and each group will be cooking some of the dishes listed in the menu. The other dishes will be cooked by your fellow cooking class participants. However, important steps and basic techniques will be demonstrated in front of the entire class and/or practiced together. Of course you will also see and hear what is going on around you and you are very welcome to ask the teacher questions. The class is designed for you to experience diverse dishes and menu components.
Location: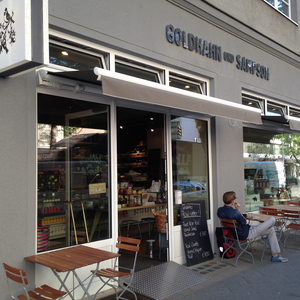 G und S Charlottenburg
Wilmersdorfer Str. 102/103
10629 Berlin
Date:
Saturday 25 April, 2020 at 18:00 h
Duration:
Generally 3.5 to 4 hours (no guarantee).
Participants:
max. 16 persons
Menu:
Antipasto: Crostini di fegato e pesto di pomodoro (mit Leber und Tomaten)
Primo: Pasta mit Wildschwein oder Hase (je nach Marktlage)
Secondo: Tagliata die Manzo con Rucola (Kurzgebratenes vom Rind auf Rucola)
Finale: Käseteller mit Pecorino