Vegan Baking: Frauentag Special
Sunday, March 08, 2020 at 12 h
Baking class in German
Vegan Baking: Frauentag Special
Torten zum Feiertag
with Gabrielle Coffey
Selbst ist die Frau, nicht nur am internationalen Frauentag. Das ist klar. Trotzdem machen wir heute ein kleines Special mit Torten und Teigen, bei denen man Kreativität und Kraft braucht, aber keinen Konditor. :) Ihr lernt, wie ihr auch ohne Gelatine und Co. wunderbare Schnitten zaubern könnt. Gemeinsam kreieren vegane Kuchenböden und Cremes, kneten Hefeteige und machen die Füllungen dafür. Zuletzt probieren wir uns auch an unterschiedlichsten Aufrolltechniken. Am Ende hat jede Gruppe eine eigene vegane Torte kreiert!
Willkommen sind natürlich nicht nur Frauen, sondern alle anderen auch: m/d/x!
Menu:
Alles, was man für eine Schokoladentorte braucht
Die vielen Gesichter des Hefezopfs
Gabrielle Coffey
Gabrielle lebt schon seit vielen Jahren vegan und seitdem sie nach Berlin kam, backt sie auch beruflich rein pflanzlich. Seit ein paar Jahren versucht sie mit ihrem Cateringunternehmen 'Mansfield Park' vegane Leckereien einem breiten Publikum näher zu bringen, wobei 'vegan' klein und 'Geschmack' groß geschrieben wird. Denn Gabrielle legt großen Wert darauf, dass vegan keine Rechtfertigung für mittelmäßiges Essen ist, sondern jedem Kritiker schmecken und dabei auch noch gut aussehen kann! In den Kursen sollen deshalb die vielseitigen Möglichkeiten des veganen Backens vorgestellt werden.
Class type:
Cooking in teams of two — In this class you will cook together with a partner (or sometimes 2 partners) at one station. You will be preparing every dish of the menu yourself. Most of the ingredients, already correctly measured, will be waiting for you at your station, so you can start cooking more quickly. Crucial techniques and/or the use of special equipment will be demonstrated by the teacher before you'll have a go yourself. This class is perfect for everyone who likes to have a real hands-on experience.
Location: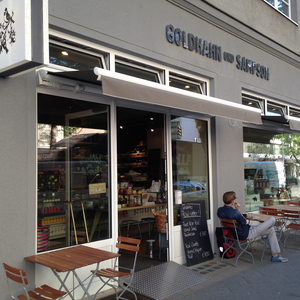 G und S Charlottenburg
Wilmersdorfer Str. 102/103
10629 Berlin
Date:
Sunday 08 March, 2020 at 12:00 h
Duration:
Generally 3.5 to 4 hours (no guarantee).
Participants:
max. 16 persons
Menu:
Alles, was man für eine Schokoladentorte braucht
Die vielen Gesichter des Hefezopfs