The Wild East: From Tiflis to Teheran
Friday, 24 May 2019 at 19 h
Cooking class in English and German
The Wild East: From Tiflis to Teheran
with Shay Dashevsky
A journey through traditional dishes created along the trade routes of Georgia, Iran and Turkey, mixing wild seasoning, herbs and exotic smells. This age old cuisine is a perfect combination of West Asian, Middle Eastern and Russian cooking.
You will learn how to make a variety of dishes, each very different from the other. You will learn to combine the salty and sweet and you'll be introduced to spices that you might not know yet. Strengthen your senses and your understanding of how to combine those ingredients and you might find this very useful to add to your repertoire.
Menu:
Tomato cucumber salad with walnut dressing
Ispanak Borani - Iranian yoghurt and spinach
Chinkali - Georgian dumplings with pork fillings
Menemen - Traditional Turkish egg tomato sauce dish
Khoresht hulu - Iranian sweet chicken stew
Ranginak - Dates and walnuts Halwa
This course will be held in German and English. The main language is German. The recipes will be in German. Shay would like to hold this course in German, but he might switch to English every now and then. Since you are looking at the English version of our website, we suppose you prefer English over German. Be aware that Shay will be trying the opposite in this course ;)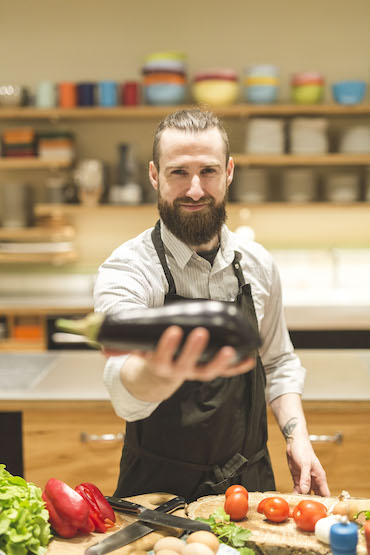 Shay Dashevsky
Born in Israel, Shay grew up in a big melting pot, literally. Raised in a former Soviet family, Shay witnessed and tasted Western Asian influences from his grandmother first hand. Surrounded with smells coming from the mixed Moroccan, Iranian, Yemeni neighborhood in the suburban Israeli city, where every open windows was a sweet invitation, Shay began his never ending journey to fusion his past and present, specially after moving to Jaffa. Arabic and Western Asian, Middle Eastern, Ukrainian and Georgian dishes: this course is an open invitation to join this passion for food.
Class type:
Cooking in groups — In this class you will form small groups and each group will be cooking some of the dishes listed in the menu. The other dishes will be cooked by your fellow cooking class participants. However, important steps and basic techniques will be demonstrated in front of the entire class and/or practiced together. Of course you will also see and hear what is going on around you and you are very welcome to ask the teacher questions. The class is designed for you to experience diverse dishes and menu components.
Location: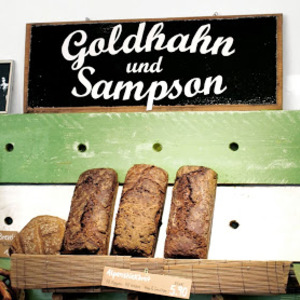 G und S Prenzlauer Berg
Dunckerstr. 9
10437 Berlin
Date:
Friday 24 May, 2019 at 19:00 h
Language:
English and German
Duration:
Generally 3 to 3.5 hours (no guarantee).
Participants:
max. 12 persons
Menu:
Tomato cucumber salad with walnut dressing
Ispanak Borani - Iranian yoghurt and spinach
Chinkali - Georgian dumplings with pork fillings
Menemen - Traditional Turkish egg tomato sauce dish
Khoresht hulu - Iranian sweet chicken stew
Ranginak - Dates and walnuts Halwa
This course will be held in German and English. The main language is German. The recipes will be in German. Shay would like to hold this course in German, but he might switch to English every now and then. Since you are looking at the English version of our website, we suppose you prefer English over German. Be aware that Shay will be trying the opposite in this course ;)