Tapas from Venice
Saturday, March 28, 2020 at 18 h
Cooking class in German
Tapas from Venice
Tasty secrets of La Serenissima
with Lisa Shoemaker
Was dem Spanier seine Tapas, sind dem Venezianer die Cicchetti (sprich: Tschiketti).
Auf dem Gebiet des Rialto im Stadtteil San Polo befindet sich seit fast 1000 Jahren der Markt der Stadt Venedig. Hinter dem Fischmarkt (Pescheria) und dem angrenzenden Gemüsemarkt verliert man sich rasch in schmalen Gassen, so eng, dass dort wohl nie ein Sonnenstrahl den Boden berührt. Doch aus unscheinbaren Türen fällt das schummrige Licht uralter Tavernen, wo man zum Ombrà (ein Glaserl Wein oder Spritz) im Stehen die Leckereien aus der Vitrine genießt.
Ich bringe Euch bei, wie man diese kleinen Köstlichkeiten selber macht.
Menu:
Gemüse-Antipasti je nach Saison z.B. mit Pilzen, Zucchini, Kürbis, Mangold, Paprika, Fenchel, grünem Spargel, Artischocke..
Involtini aus Auberginen und Büffelmozzarella
Polpette ubriache (betrunkene Fleischbällchen)
Salsiccia con la verza (mit Wirsing)
Vongole mit Ingwer und Weißwein
Jakobsmuscheln auf Zitronencreme
schwarze Polenta mit Calamaretti
Giandiuotto con la panna (halbgefrorene Schokolade mit Haselnüssen und Sahne)
Lisa Shoemaker
Lisa Shoemaker cooks and bakes with children, young people and grown-ups. She also writes and translates cook books. Works: Let's Cook (for young people) and Englisch kochen, as Amerikanisch Kochen from the series Gerichte und ihre Geschichte. She translated among others Cynthia Barcomi's baking books.
Class type:
Cooking in groups — In this class you will form small groups and each group will be cooking some of the dishes listed in the menu. The other dishes will be cooked by your fellow cooking class participants. However, important steps and basic techniques will be demonstrated in front of the entire class and/or practiced together. Of course you will also see and hear what is going on around you and you are very welcome to ask the teacher questions. The class is designed for you to experience diverse dishes and menu components.
Location: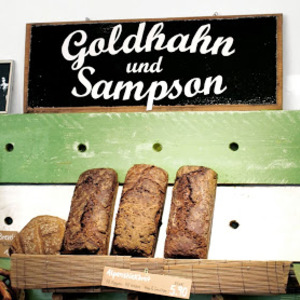 G und S Prenzlauer Berg
Dunckerstr. 9
10437 Berlin
Date:
Saturday 28 March, 2020 at 18:00 h
Duration:
Generally 3 to 3.5 hours (no guarantee).
Participants:
max. 12 persons
Menu:
Gemüse-Antipasti je nach Saison z.B. mit Pilzen, Zucchini, Kürbis, Mangold, Paprika, Fenchel, grünem Spargel, Artischocke..
Involtini aus Auberginen und Büffelmozzarella
Polpette ubriache (betrunkene Fleischbällchen)
Salsiccia con la verza (mit Wirsing)
Vongole mit Ingwer und Weißwein
Jakobsmuscheln auf Zitronencreme
schwarze Polenta mit Calamaretti
Giandiuotto con la panna (halbgefrorene Schokolade mit Haselnüssen und Sahne)