Tagine, Couscous and preserved lemons
Saturday, 10 August 2019 at 18 h
Cooking class in German
Tagine, Couscous and preserved lemons
Moroccan Cuisine
with Lisa Shoemaker
Tags tummeln sich Schlangenbeschwörer, Henna-Maler, Musiker und andere Künstler auf dem Djemaa el Fna in Marrakesch, abends verwandelt sich der Platz in die großartigste Küche, die ich je gesehen habe. Scheinbar aus dem Nichts entstehen nach Sonnenuntergang überall Stände, auf denen sich die Speisen türmen. Nackte Glühbirnenketten werfen ihr Licht auf weißgekleidete Köche und beleuchten den von Feuerstellen aufsteigenden Rauch. Es duftet es köstlich nach Gewürzen und Fleisch. Eine tolle Atmosphäre, die wir nicht nach Berlin übertragen können, aber wenigstens dem Duft und dem Geschmack können wir nachspüren.
Menu:
Ein Medley marokkanischer Salate mit Orangen, Karotten, Auberginen und Paprika
Couscous au sept legumes – Couscous wird auf eine Art und Weise gedämpft, die in jeder mitteleuropäisch ausgestatteten Küche kopiert werden kann
Hühnchen mit Salzzitronen und Oliven – dabei werden wir nach 2 Rezepten Salzzitronen zubereiten, einmal auf die traditionelle Weise (Reifezeit mehrere Wochen) und eine schnelle Art, die in 5 Tagen einsatzbereit ist (wer mag, kann ein kleines Glas mit Schraubverschluss – 200 ml – mitbringen und eine Zitrone zum Reifen mit nach Hause nehmen)
Lamm mit Datteln – geschmort in einer traditionellen Tagine
Gazellenhörnchen: Gebäck mit Mandelfüllung und Orangenblütensirup
Lisa Shoemaker
Lisa Shoemaker cooks and bakes with children, young people and grown-ups. She also writes and translates cook books. Works: Let's Cook (for young people) and Englisch kochen, as Amerikanisch Kochen from the series Gerichte und ihre Geschichte. She translated among others Cynthia Barcomi's baking books.
Class type:
Cooking in groups — In this class you will form small groups and each group will be cooking some of the dishes listed in the menu. The other dishes will be cooked by your fellow cooking class participants. However, important steps and basic techniques will be demonstrated in front of the entire class and/or practiced together. Of course you will also see and hear what is going on around you and you are very welcome to ask the teacher questions. The class is designed for you to experience diverse dishes and menu components.
Location: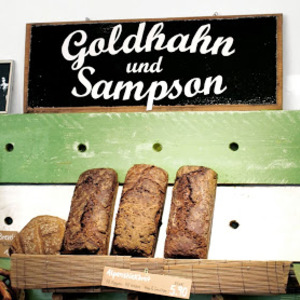 G und S Prenzlauer Berg
Dunckerstr. 9
10437 Berlin
Date:
Saturday 10 August, 2019 at 18:00 h
Duration:
Generally 3 to 3.5 hours (no guarantee).
Participants:
max. 12 persons
Menu:
Ein Medley marokkanischer Salate mit Orangen, Karotten, Auberginen und Paprika
Couscous au sept legumes – Couscous wird auf eine Art und Weise gedämpft, die in jeder mitteleuropäisch ausgestatteten Küche kopiert werden kann
Hühnchen mit Salzzitronen und Oliven – dabei werden wir nach 2 Rezepten Salzzitronen zubereiten, einmal auf die traditionelle Weise (Reifezeit mehrere Wochen) und eine schnelle Art, die in 5 Tagen einsatzbereit ist (wer mag, kann ein kleines Glas mit Schraubverschluss – 200 ml – mitbringen und eine Zitrone zum Reifen mit nach Hause nehmen)
Lamm mit Datteln – geschmort in einer traditionellen Tagine
Gazellenhörnchen: Gebäck mit Mandelfüllung und Orangenblütensirup