Sweet Cinnamon: Baking Special
Sunday, 15 December 2019 at 12 h
Baking class in German
Sweet Cinnamon: Baking Special
Vorweihnachtlicher Zimt-Genuss
with Julia Schneider
Würzig, herb und etwas süß – das einzigartige Aroma von Zimt begleitet uns besonders in der Weihnachtszeit. Ob in Zimtsterne und Spekulatius, Glühwein oder Punsch: Etwas Wärmendes haftet ihm an, ein Hauch von Exotik, sogar eine Prise Abenteuer. Wir wissen mittlerweile, dass er weder auf dem Grund von Seen wächst, noch – wie man in Arabien propagierte – von Zimtvögeln in ihren Nestern gesammelt wird, die von mutigen Jägern mit Pfeil und Bogen abgeschossen werden müssen. Auch die mittelalterliche Fantasie, dass Zimt direkt aus dem Paradies in die Fluten des Nil geschwemmt und dort von fleißigen Fischern erbeutet wird, ist heute durch das Wissen ersetzt, welche Zimtart in welchem Land gedeiht. Trotzdem: der betörende Duft und unvergleichliche Geschmack haben nach wie vor etwas Magisches, wecken die Ahnung von Reichtum und fremden Welten.
Wir machen uns in diesem Backkurs auf die Reise der wohl bekanntesten Kombination Zimt und Zucker und werden auf dem Weg die Unterschiede von Ceylon- und Cassia- Zimt erkunden. Alles gepaart mit ein paar Tricks und Tips für Cheesecakes, Tartes und den besten Zimtsternen der Welt! Merry Christmas!
Menu:
Cinnamon-Roll-Cheesecake mit Frischkäse-Frosting
Zimtsterne
Lebkuchen-Zimtcreme-Tarte mit Zartbitter-Ganache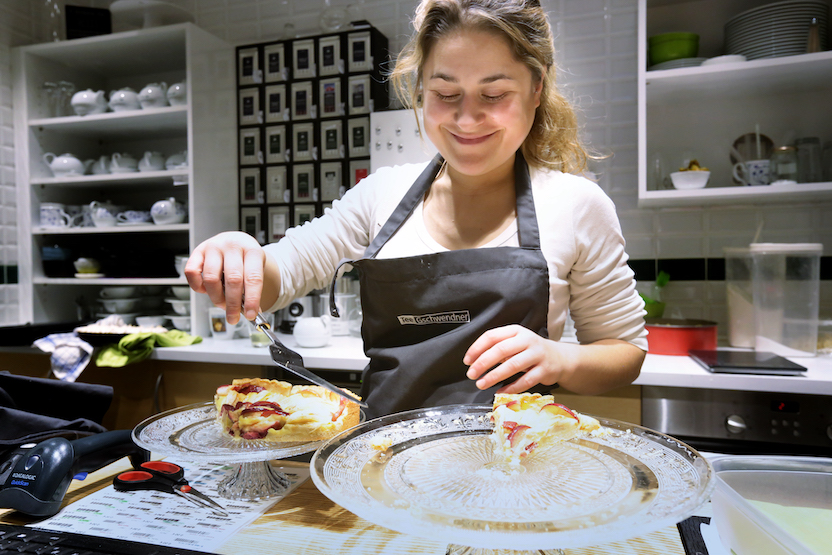 Julia Schneider
Julia ist studierte Juristin, geplante Kunsthistorikerin und gelandet in der Welt des guten Tees. Aufgewachsen mit Landwirten in der Familie, kam sie schon früh in die Gunst toller Lebensmittel. Erst der wässrige Geschmack und die pralle Konsistenz von einer Tomate, während ihrer Zeit in Amerika, machte ihr das erste Mal bewusst, was Schmecken eigentlich bedeutet und so fing sie vor genau 12 Jahren an, die Welt der Aromen für sich zu erkunden. Kochen und Backen ist nicht nur eine Leidenschaft, sondern auch Neugierde, Kreativität, Disziplin und Mut. In der Küche gibt es für sie keine Grenzen, außer den bestmöglichen Geschmack.
Photo: Julia Schneider
Class type:
Cooking in groups — In this class you will form small groups and each group will be cooking some of the dishes listed in the menu. The other dishes will be cooked by your fellow cooking class participants. However, important steps and basic techniques will be demonstrated in front of the entire class and/or practiced together. Of course you will also see and hear what is going on around you and you are very welcome to ask the teacher questions. The class is designed for you to experience diverse dishes and menu components.
Location: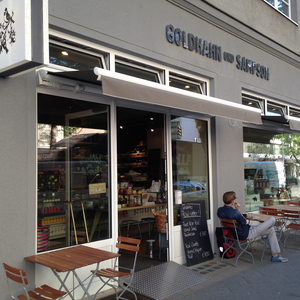 G und S Charlottenburg
Wilmersdorfer Str. 102/103
10629 Berlin
Date:
Sunday 15 December, 2019 at 12:00 h
Duration:
Generally 3.5 to 4 hours (no guarantee).
Participants:
max. 16 persons
Menu:
Cinnamon-Roll-Cheesecake mit Frischkäse-Frosting
Zimtsterne
Lebkuchen-Zimtcreme-Tarte mit Zartbitter-Ganache