S U S H I Workshop
Thursday, June 11, 2020 at 19 h
This cooking class is expected to be available for booking on Tuesday 21 April, 2020.
Cooking class in German
S U S H I Workshop
Maki und Nigiri selber machen
with Kaoru Iriyama
Sushi ist nicht gleich Sushi. Um wirklich gutes Sushi zu machen, muss man einiges an Wissen mitbringen und verschiedene Techniken beherrschen. Erstens, der Sushi-Reis: Wie bereitet man Sushi-Reis richtig zu? Wie stellt man den Sushi-Essig her? Wir formt und rollt man den Reis? Zweitens, die Füllung bzw. der Belag: Wie behandelt und schneidet man die Zutaten, vor allem den Fisch? Und drittens: Wie präsentiert und serviert man Sushi?
Kaoru hat all das bei einem Meisterkoch in Japan gelernt. An diesem Abend demonstriert und erklärt sie ausführlich und nachvollziehbar die wichtigsten Tipps und Tricks! Neugierig? Dann kommen Sie vorbei!
Menu:
Maki: frischer Thunfisch, Lachs, fein gestiftete Gurke, Avocado
Nigiri: frischer Thunfisch und Lachs in Sashimi-Qualität
Sushi wird begleitet, wie in Japan üblich, von warmer Miso-Suppe mit Tofu, Wakame und Gemüse je nach Jahreszeit
Kaoru Iriyama
Kaoru, in Tokio geboren, lebt seit 1998 in Berlin. Das Geheimnis der japanischen hohen Küche, in der Geschmack, Ästhetik und gesundheitliche Zuträglichkeit der Speisen eine harmonische Verbindung eingehen, hat sie u.a. bei dem Meisterkoch Koyama Hirohisa in seiner renommierten Kochakademie in Japan und seinem Restaurant "Aoyagi" gelernt. Die wahre Zen-Kloster-Küche hat sie auch direkt in der Küche des größten Zen-Tempels "Eiheiji" kennengelernt. Den Teilnehmern ihrer Kurse bringt sie nicht nur die authentische japanische Küche nahe: Sie erfahren auch viel über Warenkunde und traditionelle japanische Ernährungslehre - was Kaorus Kurse nicht nur zu einem Geschmackserlebnis macht, sondern zugleich zu einer einzigartigen kulturellen Erfahrung. In letzten Jahren arbeitet sie mit Panasonic und mit dem japanischen Agrarministerium zusammen. Mehr über Kaoru Iriyama: www.kaoru-iriyama.com
Class type:
Cooking in teams of two — In this class you will cook together with a partner (or sometimes 2 partners) at one station. You will be preparing every dish of the menu yourself. Most of the ingredients, already correctly measured, will be waiting for you at your station, so you can start cooking more quickly. Crucial techniques and/or the use of special equipment will be demonstrated by the teacher before you'll have a go yourself. This class is perfect for everyone who likes to have a real hands-on experience.
Location: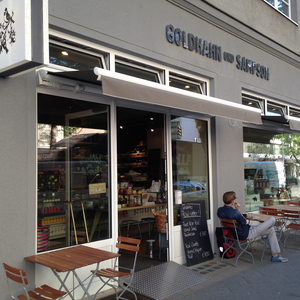 G und S Charlottenburg
Wilmersdorfer Str. 102/103
10629 Berlin
Date:
Thursday 11 June, 2020 at 19:00 h
Duration:
Generally 3.5 to 4 hours (no guarantee).
Based on our experiences, the average value for this course is 3.5 hours.
Participants:
max. 16 persons
Menu:
Maki: frischer Thunfisch, Lachs, fein gestiftete Gurke, Avocado
Nigiri: frischer Thunfisch und Lachs in Sashimi-Qualität
Sushi wird begleitet, wie in Japan üblich, von warmer Miso-Suppe mit Tofu, Wakame und Gemüse je nach Jahreszeit