Street Food from Palestine
Sunday, June 14, 2020 at 18 h
This cooking class is expected to be available for booking on Wednesday 01 July, 2020.
Cooking class in German
Street Food from Palestine
Modern arab cuisine
with Shay Dashevsky
From Damascus, through Jerusalem all the way to north Africa, the Arabic cuisine was for hundred of years mix of spices, herbs, colors and exotic cooking methods that seemed like an ancient mystery. Today we can finally experience those dishes through the new Arabic kitchen, open to all in the colorful markets of Jerusalem. This class is designed for all those who did not make it yet to Jerusalem or who simply want to try them at home. You will cook "hand-to-mouth delights", which are traditionally eaten in the streets.
Menu:
Kibbeh/Kubbeh: Crispy meatballs from the oven with bulgur and onions
Maroccan red beet salad with lemon and parsley
Zaatar manakish: homemade pita bread with zaatar spice mix
Classic Hummus
Green Tahini: sesame dip with green herbs
Tabouleh with lots or parsley
Majadare: arabic lentil rice
Malabi: Arabic dessert with rose water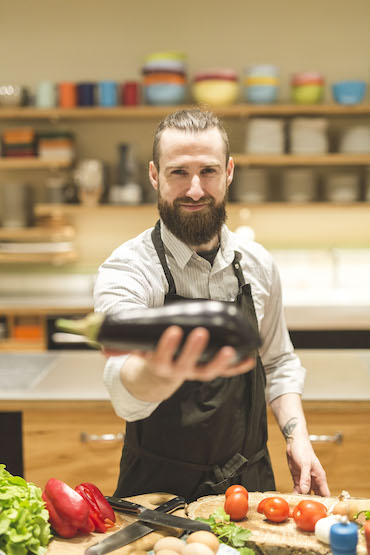 Shay Dashevsky
Born in Israel, Shay grew up in a big melting pot, literally. Raised in a former Soviet family, Shay witnessed and tasted Western Asian influences from his grandmother first hand. Surrounded with smells coming from the mixed Moroccan, Iranian, Yemeni neighborhood in the suburban Israeli city, where every open windows was a sweet invitation, Shay began his never ending journey to fusion his past and present, specially after moving to Jaffa. Arabic and Western Asian, Middle Eastern, Ukrainian and Georgian dishes: this course is an open invitation to join this passion for food.
Class type:
Cooking in groups — In this class you will form small groups and each group will be cooking some of the dishes listed in the menu. The other dishes will be cooked by your fellow cooking class participants. However, important steps and basic techniques will be demonstrated in front of the entire class and/or practiced together. Of course you will also see and hear what is going on around you and you are very welcome to ask the teacher questions. The class is designed for you to experience diverse dishes and menu components.
Location: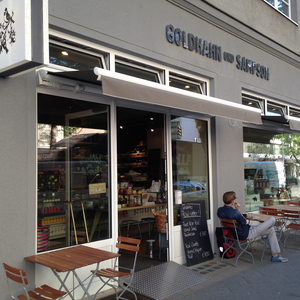 G und S Charlottenburg
Wilmersdorfer Str. 102/103
10629 Berlin
Date:
Sunday 14 June, 2020 at 18:00 h
Duration:
Generally 3.5 to 4 hours (no guarantee).
Participants:
max. 16 persons
Menu:
Kibbeh/Kubbeh: Crispy meatballs from the oven with bulgur and onions
Maroccan red beet salad with lemon and parsley
Zaatar manakish: homemade pita bread with zaatar spice mix
Classic Hummus
Green Tahini: sesame dip with green herbs
Tabouleh with lots or parsley
Majadare: arabic lentil rice
Malabi: Arabic dessert with rose water