Schwein und Wein: Lambrusco und Mangalitza
Monday, February 24, 2020 at 19 h
Seminar and tasting in German
Schwein und Wein: Lambrusco und Mangalitza
Tasting und Pairing Workshop
with Florian Minzlaff
Tierisches Fett und rote Schäumer überbieten sich im Wettkampf um das schlechteste Image. Wir wollen etwas dagegen tun. Unsere Weinnase Florian war vor Kurzem in der Emilia-Romagna und hat eine faszinierende, vielfältige Welt von schäumenden Weinen entdeckt. Dort wird im auch November zu den üppigen, lokalen Salumi ("Wurstwaren") Lambrusco gereicht. Denn dazu passt er am besten: Fett! Deshalb gönnen wir uns etwas ganz Besonderes - nämlich "Salumi" aus Franken vom Mangalitza-Schwein. Ursprünglich aus Ungarn stammend und einst weit verbreitet, wurde das Mangalitza-Schwein zur Gefährdeten Nutztierrasse des Jahres 2019 erklärt. Wir reichen das Beste vom Mangalitza von einem kleinen Zuchtbetrieb aus Oberfranken, der leidenschaftlich nach Slowfood-Richtlinien arbeitet. Es gibt eine Auswahl aus gereiften, eingemachten und geräucherten Leckerbissen. Zusätzlich gibt es Interessantes über Tier, Zucht und Züchter, zu erfahren. An diesem Abend werden also in lockerer Aperitivo-Atmosphäre Vorurteile gegenüber Fett und roten Schaumweinen aus der Welt getrunken und gegessen. Dazu gibt es Anekdoten und Informationen über Schwein & Wein.
Florian Minzlaff
Florian Minzlaff was born and raised in Berlin. As a child of two chefs his path into the world of food and drink was already paved. In his early twenties, he made his way to Italy where he studied Gastronomic Sciences and sampled the countries culinary treasures for four years. There, he couldn't help but develop a passion for wine and the complex world behind it. Since then he's been traveling the world as winemaker, sommelier and storyteller to share his enthusiasm for wine. Now Goldhahn und Sampson let's him do just that.
Photo: Nina Dörner
Class type:
Seminar and tasting
Location: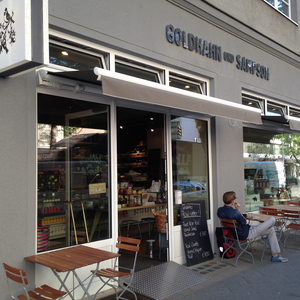 G und S Charlottenburg
Wilmersdorfer Str. 102/103
10629 Berlin
Date:
Monday 24 February, 2020 at 19:00 h
Duration:
Generally 3.5 to 4 hours (no guarantee).
Participants:
max. 16 persons