Real Korean Street Food
Mittwoch, 20. Juni 2018 um 19 Uhr
69,00 EUR
inkl. 19 % MwSt.
Kochkurs auf Englisch
Real Korean Street Food
mit Yurim Byun
If you ask Koreans what their favorite food is, 90 % of them will answer "Tteokbokki!" Yes, their is no doubt. Tteokbokki, spicy stir-fried rice cakes with fish cakes and spring onions, is the most popular and beloved Korean street food in Korea. You can find it everywhere in the street, similar to how Currywurst is be found in Berlin. The chewy texture of rice cake and sweetness out of spiciness is the key of this dish.
Also, there are some other street foods that you can usually get with Tteokbokki at a street food vendor. Such as Kimbap, a Korean sushi roll filled with various cooked ingredients and vegetables as well as Odeng Guk: fish cake broth with skewered fish cakes. The dessert will be a popular sweet in Korean street food culture called Hotteok – a pancake filled with cinnamon brown sugar and peanuts.
We are going to master these perfect Korean street foods that will warm you up. And you will be able to share this special atmosphere with your family and friends.
Menü:
Kimbap >> Korean sushi roll filled with cucumber, stir fried carrots, yellow pickled radish, braised burdock, paprika, egg roll, rice and seaweed additionally bulgogi, tuna mayo, cheese
Odeng guk >> Fish cake broth with skewered fish cake served with sesame soy sauce
Tteokbokki >> Spicy stir fried rice cake with fish cake and spring onions additionally boiled eggs
Hotteok>> Korean pancake filled with cinnamon brown sugar and peanuts
Yurim Byun
Yurim was born in Seoul, South Korea in 1982. Where at the age of 9, she began cooking 'Kalguksu', a noodle soup, from scratch without a recipe book. Cooking was a form of playing for the little girl who was an only child. She later went to Japan to study in 2004 where she started a side job in a Japanese restaurant located in Shibuya. This experience started her on her path to her career as a caterer. Since moving to Berlin in 2012, she has been working in the gastronomy scene. During her second year in Berlin, she became a private chef on 'Kitchensurfing'. In 2014, she decided to start her own catering business called 'Eat me Catering', which focused on authentic Korean cuisine with a modern twist in presentation. "I don't have recipes, I just cook with feelings." says Yurim. As a Korean who was born and raised Korea, she knows how Korean food should be, as all daughters learn from their mothers. Her unique and distinctive style which she infuses into her dishes, creates something very special. Through her years of experience working as a caterer, she began to understand Berlin food trends and her mission became "Make everyone happy". With her preparations she focuses on healthy Korean food that includes good nutrition balance, vegan, gluten-free and superfoods.
Kurstyp:
Teamwork — Mehrere Teams bereiten jeweils einen (manchmal auch zwei) der Menüpunkte zu. Bei wichtigen Schritten, z.B. wenn es um grundlegende Techniken geht, könnt Ihr alle zusammen zuschauen bzw. mitmachen. Natürlich bekommt Ihr auch immer mit, was rechts und links von Euch passiert und dürft den Kursleiter mit Fragen löchern. Auf diese Weise lernt ihr viele unterschiedliche Gerichte und Menü-Bausteine kennen.
Ort: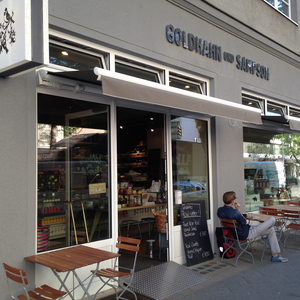 G&S Charlottenburg
Wilmersdorfer Str. 102/103
10629 Berlin
Datum:
Mittwoch, 20. Juni 2018 um 19:00 Uhr
Dauer:
In der Regel 3.5 bis 4 Stunden (ohne Gewähr).
Teilnehmer:
max. 10 Personen
Menü:
Kimbap >> Korean sushi roll filled with cucumber, stir fried carrots, yellow pickled radish, braised burdock, paprika, egg roll, rice and seaweed additionally bulgogi, tuna mayo, cheese
Odeng guk >> Fish cake broth with skewered fish cake served with sesame soy sauce
Tteokbokki >> Spicy stir fried rice cake with fish cake and spring onions additionally boiled eggs
Hotteok>> Korean pancake filled with cinnamon brown sugar and peanuts