Raw Italian Summer mit Naturwein
Tuesday, 24 September 2019 at 19 h
Raw food class in German
Raw Italian Summer mit Naturwein
Sommerliche Rohkost deluxe
with Boris Lauser
Weltenbummler und RAW Food Chef Boris Lauser hat vor seiner Karriere als Rohkost Koch jahrelang in Italien gelebt und gearbeitet, wo er damals seine große Leidenschaft zum guten Essen und den besten Produkten entdeckt hat. Selbstverständlich hat ihn das kulinarisch stark geprägt und somit steht dieser spätsommerliche Abend auch ganz im Zeichen seiner kulinarischen Nostalgie. Klassisch italienisch wird es an diesem Abend nicht ganz da Boris mit euch seine ganz besondere RAW vegane Interpretation dieser tollen Küche in einem 4-Gänge Menü zubereiten wird. Lasst euch überraschen vom neuen Bella Italia.
Menu:
Antipasti
Caprese: Cashew Mozzarella mit Tomate
Marinierter Aubergine mit Honigmelone
Pasta
Zucchini Spaghetti mit Pilz-Carbonara
Secondi
Sizilianische Caponata mit Kapern und Pinienkernen
Insalata Misticanza mit panierten Pfisichen und Kürbiskerndressing
Carpaccio vom Kräutersaitling mit Kapernsosse
I dolci
Mandel-Tonka Panna Cotta mit Beerensosse
Rawtella Gelato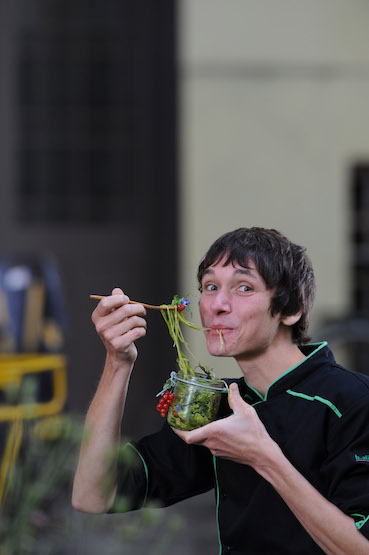 Boris Lauser
Boris Lauser, vom Cicero als Der Koch ohne Herd bezeichnet, zaubert aus besten rohen, veganen Zutaten kulinarische Meisterwerke. Gelernt hat Boris Lauser die Kunst der feinen Raw Food Cuisine an den besten Schulen in den USA und auf Bali, wo er auch heute noch luxuriös exotische Retreats leitet. In Berlin betreibt Boris einen Gourmet Dinner Club, gibt Kurse und Kochseminare und wird weltweit für Events, Seminare und auch Restaurant Beratung gebucht.
Im Januar 2015 erschien sein erstes Buch: Go Raw - Be Alive! Infos zu seinen anderen Kursen, weltweiten Seminaren und Anfragen für Caterings sowie Privat- oder Restaurantberatung findet ihr auf seiner Webseite www.borislauser.com.
Photo: Annett Melzer
Class type:
Cooking in groups — In this class you will form small groups and each group will be cooking some of the dishes listed in the menu. The other dishes will be cooked by your fellow cooking class participants. However, important steps and basic techniques will be demonstrated in front of the entire class and/or practiced together. Of course you will also see and hear what is going on around you and you are very welcome to ask the teacher questions. The class is designed for you to experience diverse dishes and menu components.
Location: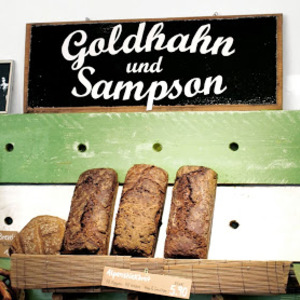 G und S Prenzlauer Berg
Dunckerstr. 9
10437 Berlin
Date:
Tuesday 24 September, 2019 at 19:00 h
Duration:
Generally 3 to 3.5 hours (no guarantee).
Participants:
max. 12 persons
Menu:
Antipasti
Caprese: Cashew Mozzarella mit Tomate
Marinierter Aubergine mit Honigmelone
Pasta
Zucchini Spaghetti mit Pilz-Carbonara
Secondi
Sizilianische Caponata mit Kapern und Pinienkernen
Insalata Misticanza mit panierten Pfisichen und Kürbiskerndressing
Carpaccio vom Kräutersaitling mit Kapernsosse
I dolci
Mandel-Tonka Panna Cotta mit Beerensosse
Rawtella Gelato