Raw Asian Delights
Wednesday, March 18, 2020 at 19 h
Raw food class in German
Raw Asian Delights
with Boris Lauser
Exotische Kombinationen aus Kokos, Ingwer, Chilli, Sesamöl, Zitronengras, Kurkuma, Koriander und exotischen Früchten sind hierzulande beliebt wie nie!
Leider sind sie nicht immer für jeden zugänglich, da selbst in den besseren Restaurants oft minderwertige oder wenig nahrhafte Zutaten verwendet werden: Zu viel weisser Reis, minderwertiges Fleisch, genmanipulierte Sojaprodukte und MSG, ein Geschmacksverstärker, der vielen gesundheitliche Probleme bereitet.
In meiner Küche verwende ich nur reinste, pflanzenbasierte Produkte aus biologischem Anbau und konzentriere mich auf die wirkliche Essenz der Zutaten. Inspiriert von meinen zahlreichen Reisen in ganz Asien und meiner Arbeit auf Bali, werde ich mit euch an diesem Abend ein asiatisches Menü der ganz besonderen Art zubereiten - roh, vegan und glutenfrei - welches eure Geschmacksknospen für einen Abend in die fernöstliche Welt exotischer Gewürze, Kräuter und Früchte entführt:
Menu:
Amuse: Cashew-Kaffirlimetten-Creme trifft Gurke
Feine Misosuppe mit marinierten Shitake Pilzen, Frühlingszwiebeln, Avocado und Kokosnudeln
Chinesische Dim Sum an Umeboshi-Pflaumen süss-sauer
Rawshi - nouveau sushi aus Wurzelgemüse-Reis - mit Wasabi-Tahini-Honig-Dip
Gemüse- und Kelp-Nudeln in frischem Kokos-Zitronengras-Curry mit knusprigen Teryaki-Mandeln
Dessert: Cremiges Kokossorbet badet in Wildem Kakao und Mango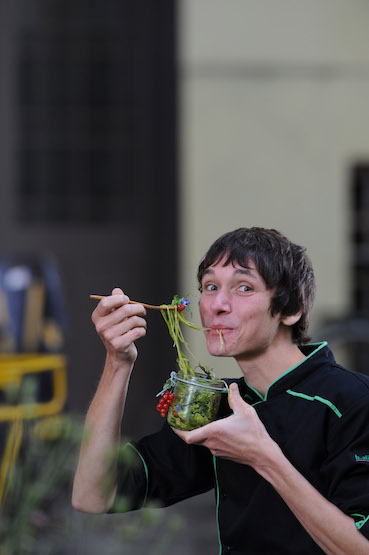 Boris Lauser
Boris Lauser, vom Cicero als Der Koch ohne Herd bezeichnet, zaubert aus besten rohen, veganen Zutaten kulinarische Meisterwerke. Gelernt hat Boris Lauser die Kunst der feinen Raw Food Cuisine an den besten Schulen in den USA und auf Bali, wo er auch heute noch luxuriös exotische Retreats leitet. In Berlin betreibt Boris einen Gourmet Dinner Club, gibt Kurse und Kochseminare und wird weltweit für Events, Seminare und auch Restaurant Beratung gebucht.
Im Januar 2015 erschien sein erstes Buch: Go Raw - Be Alive! Infos zu seinen anderen Kursen, weltweiten Seminaren und Anfragen für Caterings sowie Privat- oder Restaurantberatung findet ihr auf seiner Webseite www.borislauser.com.
Photo: Annett Melzer
Class type:
Cooking in groups — In this class you will form small groups and each group will be cooking some of the dishes listed in the menu. The other dishes will be cooked by your fellow cooking class participants. However, important steps and basic techniques will be demonstrated in front of the entire class and/or practiced together. Of course you will also see and hear what is going on around you and you are very welcome to ask the teacher questions. The class is designed for you to experience diverse dishes and menu components.
Location: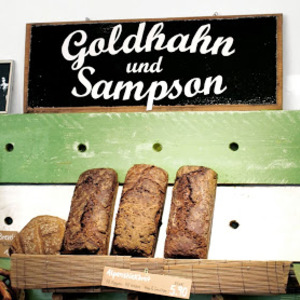 G und S Prenzlauer Berg
Dunckerstr. 9
10437 Berlin
Date:
Wednesday 18 March, 2020 at 19:00 h
Duration:
Generally 3 to 3.5 hours (no guarantee).
Participants:
max. 12 persons
Menu:
Amuse: Cashew-Kaffirlimetten-Creme trifft Gurke
Feine Misosuppe mit marinierten Shitake Pilzen, Frühlingszwiebeln, Avocado und Kokosnudeln
Chinesische Dim Sum an Umeboshi-Pflaumen süss-sauer
Rawshi - nouveau sushi aus Wurzelgemüse-Reis - mit Wasabi-Tahini-Honig-Dip
Gemüse- und Kelp-Nudeln in frischem Kokos-Zitronengras-Curry mit knusprigen Teryaki-Mandeln
Dessert: Cremiges Kokossorbet badet in Wildem Kakao und Mango