How to sharpen kitchen knives
Saturday, March 28, 2020 at 11 h
Workshop in German
How to sharpen kitchen knives
with Martin Böck
Bitte ein bis 3 eigene Messer zum schärfen mitbringen.
In dem Kurs wird vermittelt wann ein Messer eigentlich scharf ist und wie ich das erkenne. Es wird der Unterschied vermittelt zwischen einem Grundschliff und dem scharf halten des Messers. Es wird auf verschiedene Schleifmöglichkeiten wie Schleifstein, Wetzstahl, Schärfgeräte eingegangen und erläutert was dabei sinnvoll ist und warum. Wir beschäftigen uns mit den verschiedenen Varianten von Schleifsteinen und wann welche zu verwenden sind. Dann wird erläutert welche Winkel für das Schneiden relevant sind und warum. Außerdem wird erklärt wie man den Schleifstein verwendet
Natürlich wird dann auch noch das Schärfen mit dem eigenen Messer geübt. Dazu ist es nötig, das jeder Teilnehmer ein bis drei eigene Messer mitbringt, die mehr oder weniger stumpf sein dürfen.
Jeder Teilnehmer bekommt seinen eigenen Schleifstein und darf ihn nach dem Kurs mit nach Hause nehmen.
Dauer: ca. 1,5-2 Stunden
Martin Böck
Martin hat 1996 seine Gesellenprüfung als Schneidwerkzeugmechaniker in der Fachrichtung Schneidemaschinen- und Messerschmiedetechnik abgelegt und ist seit 2000 Meister in diesem Handwerksberuf. Seit 15 Jahren ist er in der Rixdorfer Schmiede tätig, Berlins älteste Schmiede, seit fast vierhundert Jahren am Richardplatz in Berlin-Neukölln. Hauptsächlich beschäftigt er sich mit dem Nachschleifen von allem was Schneiden soll und kann, in der Hauptsache Messer und Scheren, sowohl für Privat als auch Gewerbe. Außerdem ist die Rixdorfer Schmiede eine der letzten Manufakturen für Messer in Deutschland.
Photo: Rixdorfer Schmiede
Location: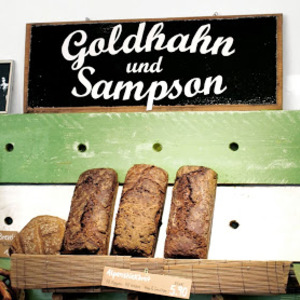 G und S Prenzlauer Berg
Dunckerstr. 9
10437 Berlin
Date:
Saturday 28 March, 2020 at 11:00 h
Duration:
Generally 3 to 3.5 hours (no guarantee).
Based on our experiences, the average value for this course is 2 hours.
Participants:
max. 12 persons