Meraki: Soulfood aus Griechenland
Wednesday, March 11, 2020 at 19 h
Cooking class in German
Meraki: Soulfood aus Griechenland
Kochen, Essen und Leidenschaft
with Eleni Miliou
Herzhafte Gerichte aus Thessaloniki und Nordgriechenland, die Tradition und Moderne kombinieren
Griechen sind für ihre Gastfreundschaft bekannt, die eher öfters eine Einladung zu einer mit 'Meraki' zubereiteten Mahlzeit beinhaltet. Meraki heißt etwas mit Liebe und Leidenschaft zu machen, ein Stück von sich selbst in die eigene Arbeit oder Kreation zu stecken. Meraki ist weltweit bekannt geworden, dadurch dass es keine direkte Übersetzung in irgendeine andere Sprache hat. Das Wort wird oft von Griechen in Zusammenhang mit Kochen und Essen benutzt, und ein leidenschaftlicher Koch, der mit Sorgfalt und Liebe seine Gerichte zubereitet, ist 'Meraklis' genannt. Thessaloniki ist Griechenlands Heimat von 'Meraklis'.
Während die meisten Touristen sich mit Gyros, Tzatziki, Moussaka & Co. von den unzähligen Tavernen gut auskennen, kann man die wahre, in der ganzen Nation hochgelobte Küche dieser über 2000 Jahre alten Stadt nur kennenlernen, wenn man von Meraklis zum Essen eingeladen wird. oder indem man selbst kocht! Wenn man schon das Glück hatte in Nordgriechenland, zu Gast bei einer Familie zu sein, weiß man was als Nächstes kommt: ein vielfältiges Büffet von leckeren 'Mezedes', deftige Fleisch und Gemüsegerichte, ganz gern mit Unmengen von Olivenöl, Tomatensauce und Knoblauch, und als Nachspeise verführerisch süße hausgemachte 'Siropiasta' - mit Syrup "betrunkenes" Gebäck.
In diesem Kochkurs lade ich euch ein gemeinsam mit mir und natürlich mit extra Mengen 'Meraki' ein typisch griechisches Mahl vorzubereiten, bei dem alle Gerichte geteilt werden. Wir entdecken kreative Dips, Salat aus saisonalen Gemüsen, einen herzhaften Eintopf, und eine aromatische Nachspeise. Kali Orexi!
Menu:
Auberginen Dip mit Knoblauch
Feta-Chili Dip
Salat aus Konstantinopel: Weißkraut- und Möhrensalat mit Zitronen-Olivenöl-Petersilie-Dressing
Gefüllte Zucchini mit Hackfleisch und Reis in Zitronensoße
Orangen-Jogurt-Kuchen mit Orangensirup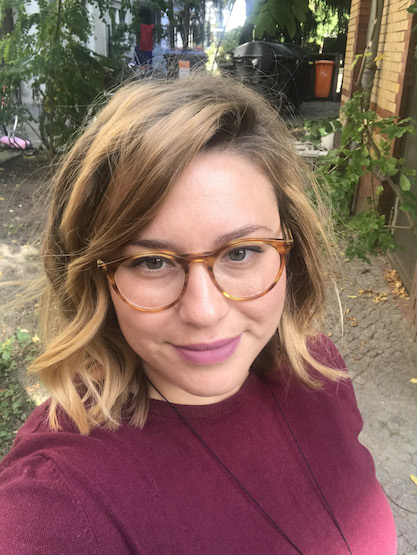 Eleni Miliou
Eleni, wurde in Thessaloniki, die 'zweite Hauptstadt' Griechenlands geboren, und ist dort aufgewachsen. Die über 2000 Jahre alte Stadt ist ein Schmelztiegel traditioneller griechischer, jüdischer, und ottomaner Einflüssen. Eleni hat schon als Kind großes Interesse an das orientalische Kochen ihrer Oma, die aus Kleinasien stammte, gezeigt und mit ihr immer wieder 'ohne Rezepte' und 'nur mit dem was im Kühlschrank steht' gekocht. Jeden Sommer hat sie im Dorf frische Gemüse, aromatische Kräuter und reife Früchte vom Garten gepflückt, und sie zusammen mit ihrer Oma in einzigartige Köstlichkeiten verwandelt. Schon als Teenager aber besonders als Erwachsene übernimmt sie das tägliche Kochen für ihre Familie, weil ihrer Meinung nach hausgemacht immer besser ist. Nach ihrem Studium in Deutschland und ein paar Jahre Aufenthalt in Schweden und Irland, ist sie endlich zu ihrer Lieblingsstadt gezogen: Berlin. Hier arbeitet sie tagsüber als Marketing Beraterin und verbreitet in ihrer Freizeit ihre Liebe für das Kochen, das Essen und das 'Zusammensein'.
Photo: Eleni Miliou
Class type:
Cooking in groups — In this class you will form small groups and each group will be cooking some of the dishes listed in the menu. The other dishes will be cooked by your fellow cooking class participants. However, important steps and basic techniques will be demonstrated in front of the entire class and/or practiced together. Of course you will also see and hear what is going on around you and you are very welcome to ask the teacher questions. The class is designed for you to experience diverse dishes and menu components.
Location: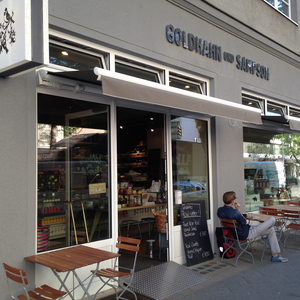 G und S Charlottenburg
Wilmersdorfer Str. 102/103
10629 Berlin
Date:
Wednesday 11 March, 2020 at 19:00 h
Duration:
Generally 3.5 to 4 hours (no guarantee).
Participants:
max. 16 persons
Menu:
Auberginen Dip mit Knoblauch
Feta-Chili Dip
Salat aus Konstantinopel: Weißkraut- und Möhrensalat mit Zitronen-Olivenöl-Petersilie-Dressing
Gefüllte Zucchini mit Hackfleisch und Reis in Zitronensoße
Orangen-Jogurt-Kuchen mit Orangensirup