Middle East meets Mittelmeer
Thursday, April 2, 2020 at 19 h
Cooking class in German
Middle East meets Mittelmeer
Vegetarian, Middle Eastern, Mediterranean
with Mani Bakhshpour
Lerne geheime vegetarische Techniken der Mittelmeerküche! Komplexe Aromen der arabischen und persischen Küche werden fusioniert und ergeben in Kombination mit unverbesserlichen Klassikern der italienischen, französischen, türkischen und israelischen Küche einen überirdischen Genuss.
Menu:
Linsen-Bulgur-Salat mit Granatapfeldressing
Börek Deluxe
Spinat-Pistazien-Zaziki
Rote-Beete-Zaziki
Geräuchertes Bademjan (Auberginen) mit Minzsauce
Ratatouille "Arabesque" serviert auf Hummus mit mariniertem Büffelmozzarella
Selbstgemachte Safran-Orechiette mit Pistazienpesto und karamelliesierten Tomaten
Frozen Chocolate mit Earl Grey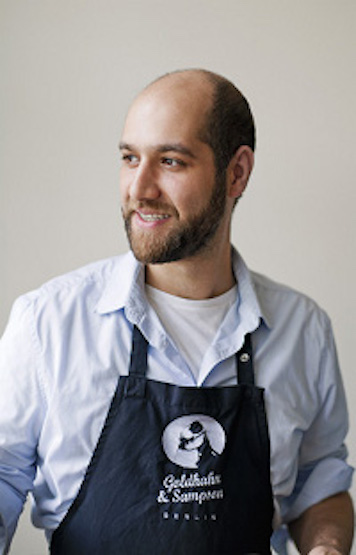 Mani Bakhshpour
Mani Bakhshpour, freiberuflicher Regisseur und Fotograf, wurde in Teheran geboren und verbrachte seine Kindheit dort. Seine Eltern – beide sehr gute Köche – haben ihm früh Einblick in ihre Kochtöpfe gewährt. Nicht ohne Folgen. Heute ist Mani ein Großmeister der persischen Reiskruste und hat ein Bockshornkleefeld auf dem Balkon.
Class type:
Cooking in groups — In this class you will form small groups and each group will be cooking some of the dishes listed in the menu. The other dishes will be cooked by your fellow cooking class participants. However, important steps and basic techniques will be demonstrated in front of the entire class and/or practiced together. Of course you will also see and hear what is going on around you and you are very welcome to ask the teacher questions. The class is designed for you to experience diverse dishes and menu components.
Location: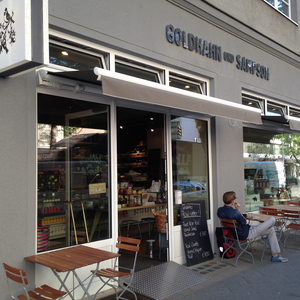 G und S Charlottenburg
Wilmersdorfer Str. 102/103
10629 Berlin
Date:
Thursday 02 April, 2020 at 19:00 h
Duration:
Generally 3.5 to 4 hours (no guarantee).
Participants:
max. 16 persons
Menu:
Linsen-Bulgur-Salat mit Granatapfeldressing
Börek Deluxe
Spinat-Pistazien-Zaziki
Rote-Beete-Zaziki
Geräuchertes Bademjan (Auberginen) mit Minzsauce
Ratatouille "Arabesque" serviert auf Hummus mit mariniertem Büffelmozzarella
Selbstgemachte Safran-Orechiette mit Pistazienpesto und karamelliesierten Tomaten
Frozen Chocolate mit Earl Grey