Cucina italiana moderna, menù SUD-EST
Cooking class in German
Cucina italiana moderna, menù SUD-EST
Italian classics in a modern way
with Guido Vinci
"Traditionell italienisch, inspiriert von Aromen aus aller Welt"
Die Neue Italienische Küche bedeutet für mich eine Interpretation der traditionellen cucina italiana mit Aromen aus aller Welt – kontrastreich aber harmonisch zugleich. Italienische Klassiker wie Spaghetti Carbonara erhalten mit Thunfisch-Tartar eine komplett neue Geschmacksdimension und bleiben sich dennoch "carbonara-treu". Oder: Auf einmal tauchen die "Asiaten" Ingwer und Lime wie selbstverständlich bei der norditalienischen Spezialität – "den Kalbsbäckchen auf Kartoffelpüree" auf. Wer jetzt denkt, es könne nicht mehr italienisch schmecken, der irrt – denn die italienische Küche bildet für mich die Basis des guten Geschmacks. Ich freue mich auf einen Abend mit Euch und lade ein zu einem 4-Gänge-Menü.
Menu (example):
Wiesenkräutersalat mit Pilzen der Saison, sardischem Biospeck und mit frischem Ziegenkäse und Thymianhonig gratiniertem Bio-Dinkelbaguette
Linguine mit Artischocken, Taggiasca-Oliven, Oregano, Rucola, kandierten Tomaten, Lavendelblüten und Parmesan
Kalbsbäckchen in Rotweinsauce geschmort auf Zitronen-Kartoffelpüree, dazu Safran-Zwiebel-Confit mit kandiertem Ingwer, Limette und Radieschen
Zabaione mit Moscato d`Asti auf Waldbeerenkompott mit gerösteten Mandeln und Minze
(es werden Bio-Zutaten verwendet, wenn möglich)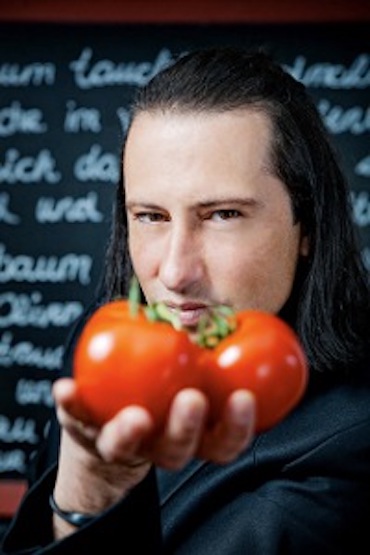 Guido Vinci
Guido Vinci (Jg. 1970) stammt zwar von der berühmten Familie Leonardo da Vincis aus Florenz ab, kommt aber aus Süditalien – genauer gesagt aus Apulien und ist in der Nähe von Bari aufgewachsen. Die Genialität seiner Vorfahren hat Guido in die Küche geführt. Bereits als kleiner Junge fängt er Fische und bereitet sie für seine Freunde und sich zu - mit bestem apulischen Olivenöl und Kräutern aus dem eigenen Garten. Zu den heimischen Zutaten kommen bald Aromen aus aller Welt, denn Guido geht auf Reisen – nach Südostasien, Mittel- und Südamerika und lässt sich kulinarisch inspirieren. 2000 zieht es den Süditaliener schließlich nach Berlin. Guido arbeitet als Küchenchef in mehreren Szene-Restaurants und hat die Cucina Italiana in Berlin zu einer einzigartigen italienischen Kreativküche entwickelt. Mit dieser Kochkunst hat er bereits halb Hollywood verführt u.a. Katie Holmes & Tom Cruise, Quentin Tarantino, Natalie Portmann, Clive Owen und Robert Redford.
Class type:
Cooking in groups — In this class you will form small groups and each group will be cooking some of the dishes listed in the menu. The other dishes will be cooked by your fellow cooking class participants. However, important steps and basic techniques will be demonstrated in front of the entire class and/or practiced together. Of course you will also see and hear what is going on around you and you are very welcome to ask the teacher questions. The class is designed for you to experience diverse dishes and menu components.
Duration:
Generally 3 to 3.5 hours (no guarantee).
Menu (example):
Wiesenkräutersalat mit Pilzen der Saison, sardischem Biospeck und mit frischem Ziegenkäse und Thymianhonig gratiniertem Bio-Dinkelbaguette
Linguine mit Artischocken, Taggiasca-Oliven, Oregano, Rucola, kandierten Tomaten, Lavendelblüten und Parmesan
Kalbsbäckchen in Rotweinsauce geschmort auf Zitronen-Kartoffelpüree, dazu Safran-Zwiebel-Confit mit kandiertem Ingwer, Limette und Radieschen
Zabaione mit Moscato d`Asti auf Waldbeerenkompott mit gerösteten Mandeln und Minze
(es werden Bio-Zutaten verwendet, wenn möglich)