BAHADUR Classic indian recipes
Wednesday, May 6, 2020 at 19 h
Cooking class in German
BAHADUR Classic indian recipes
Kochen lernen von den Profis
with Gaurav & Chefs vom BAHADUR
Indian cuisine is famous for its diversity, spices and flavours. This cooking course will show you techniques to prepare some classic dishes from scratch. These authentic recipes are by the chefs of BAHADUR restaurant in Wilmersdorf. You will prepare together:
Menu:
Butter Chicken
Aloo Gobhi: Blumenkohl mit Kartoffeln und Kokosmilch (vegetarisch)
Fischcurry
Chapati (Brot)
Basmatireis
Shrikhand (Dessert)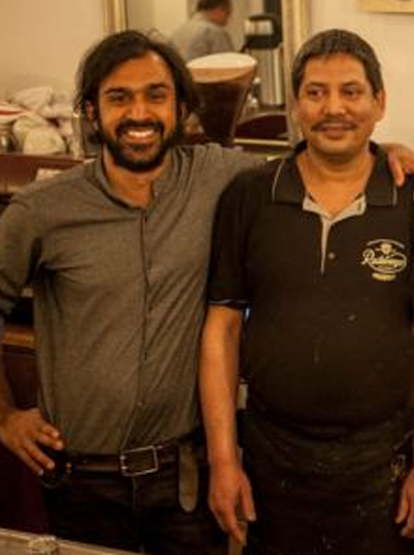 Gaurav & Chefs vom BAHADUR
Since 2016 Man Bahadur Vir and Gaurav Sharma are running their small restaurant BAHADUR in Wilmersdorf. Chef Man Bahadur Vir together with sous-chef Guru Prasad are preparing traditional north-indian dishes in authentic way using high quality ingredients. Both chefs have gathered years of experience in indian cuisine in- and outside of India. This cooking course will be lead by one of the chefs.
Photo: Dinah Hoffmann
» More classes with Gaurav & Chefs vom BAHADUR
Class type:
Cooking in groups — In this class you will form small groups and each group will be cooking some of the dishes listed in the menu. The other dishes will be cooked by your fellow cooking class participants. However, important steps and basic techniques will be demonstrated in front of the entire class and/or practiced together. Of course you will also see and hear what is going on around you and you are very welcome to ask the teacher questions. The class is designed for you to experience diverse dishes and menu components.
Location: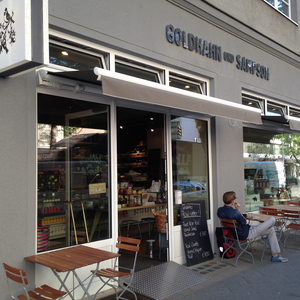 G und S Charlottenburg
Wilmersdorfer Str. 102/103
10629 Berlin
Date:
Wednesday 06 May, 2020 at 19:00 h
Duration:
Generally 3.5 to 4 hours (no guarantee).
Participants:
max. 16 persons
Menu:
Butter Chicken
Aloo Gobhi: Blumenkohl mit Kartoffeln und Kokosmilch (vegetarisch)
Fischcurry
Chapati (Brot)
Basmatireis
Shrikhand (Dessert)