Ayurvedic Feel Good Food aus dem Punjab
Saturday, May 30, 2020 at 18 h
This cooking class is expected to be available for booking on Wednesday 01 July, 2020.
Cooking class in German
Ayurvedic Feel Good Food aus dem Punjab
Best of Indian Veggie Classics
with Simone und Adi Raihmann - Karma Food
Adi und Simone Raihmann aus Wien sind zu Gast in Charlottenburg. Sie haben mit ihrem Kochbuch "Karma Food ~Ayurvedisch - Vegetarisch - Vegan." den ayurvedischen Wissensschatz von Adi's indischer Mum und damit herrliche Familienrezepte aus dem Punjab modern interpretiert. Für einen Abend nehmen sie euch mit auf ihre kulinarische Reise in die bunte (Gewürz-)Welt Indiens, ganz nach dem Motto: 'Iss Gutes und Dir widerfährt Gutes'.
Was du erwarten kannst?
Ayurveda Kitchen Hacks für deinen Alltag
DIY Gewürzmischungen
Schnelle Mahlzeiten, die nicht nur gut schmecken sondern rundum guttun
Eine Basismischung (auch Tadka genannt), unzählige Köstlichkeiten
Indiens Küche ist so bunt, aromatisch und vielfältig wie das Land selbst, und dabei vor allem eines: alltagstauglich. Simone und Adi zeigen euch wie schnell ihr euch auch zu Hause eine Lifesaver Curry Base zaubern könnt. Mit saisonalen Lieblingszutaten vom Markt oder auch ganz Zerowaste mit Zutaten aus eurem Vorratsschrank oder Kühlschrank, habt ihr so in wenigen Minuten ein leckeres, gesundes Festmahl auf dem Tisch. Wir zeigen euch schnelle Mahlzeiten, die Energie liefern, gute Laune verbreiten und (der ganzen Familie) rundum guttun.
Menu:
But First, Chai: Masala Chai (indischer Gewürztee mit Milch)
Der Snack für hungrige Partyhorden: Pakoras (Knuspriges Gemüse im Kichererbsenmehlmantel)
Mung Dal Tadka: Cremige Linsensuppe
Bhindi Masala: Okraschoten Gemüse Curry
Ayurvedisches Comfort Food: Kitchari (würziges Reisporridge mit Linsen vielen Gewürzen)
Der Klassiker: Chana Masala Curry (Kichererbsen Curry)
Curry's Best Friend: Roti (Indisches Fladenbrot aus Vollkornmehl)
Ein Chutney kommt selten allein: Minz-Koriander-Chutney & Tamarinden-Limetten-Chutney
Von diesem Dessert will man immer mehr: Kheer (indischer Milchreis)
Simone und Adi Raihmann - Karma Food
2014 haben sich Simone und Adi Raihmann ihren gemeinsamen Traum vom eigenen Deli erfüllt, mit der täglichen Mission Menschen mit Karma Food (noch) glücklicher zu machen - sei es mit leckerem, gesundem Essen, einem offenen Ohr oder einem Lächeln. Mittlerweile gibt es 7x Karma Food in Wien und Umgebung sowie ein Kochbuch «Karma Food ~Ayurvedisch - Vegetarisch - Vegan.» (im Brandstätter Verlag), in dem die beiden ihre Passion für ayurvedisches Health Food mit der Welt teilen.
Adi stammt aus dem Punjab und mit seiner Ausbildung zum Ayurvedic Chef hieß es für ihn 'Back to the Roots'. Gemeinsam mit seiner Karma Crew kocht er täglich leckere Gerichte voller Nährstoffe und einer extra Portion Good Karma. Simone ist ständig am Tüfteln, Probieren und neue (kulinarische) Trends Studieren. Sie experimentiert gerne mit Fermentation, Single Origin Coffee lässt ihr Herz höher schlagen und zu einem guten Essen mit Familie und Freunden findet sie besonders ein Glaserl Naturwein fein.
Freut euch also auf einen vielseitigen, spannenden Kochabend mit den beiden!
Photo: Simone und Adi Raihmann / Brandstätter Verlag
Class type:
Cooking in groups — In this class you will form small groups and each group will be cooking some of the dishes listed in the menu. The other dishes will be cooked by your fellow cooking class participants. However, important steps and basic techniques will be demonstrated in front of the entire class and/or practiced together. Of course you will also see and hear what is going on around you and you are very welcome to ask the teacher questions. The class is designed for you to experience diverse dishes and menu components.
Location: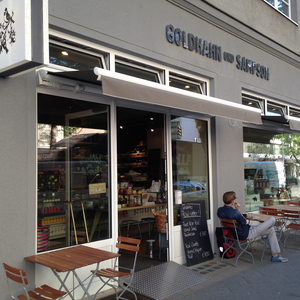 G und S Charlottenburg
Wilmersdorfer Str. 102/103
10629 Berlin
Date:
Saturday 30 May, 2020 at 18:00 h
Duration:
Generally 3.5 to 4 hours (no guarantee).
Participants:
max. 16 persons
Menu:
But First, Chai: Masala Chai (indischer Gewürztee mit Milch)
Der Snack für hungrige Partyhorden: Pakoras (Knuspriges Gemüse im Kichererbsenmehlmantel)
Mung Dal Tadka: Cremige Linsensuppe
Bhindi Masala: Okraschoten Gemüse Curry
Ayurvedisches Comfort Food: Kitchari (würziges Reisporridge mit Linsen vielen Gewürzen)
Der Klassiker: Chana Masala Curry (Kichererbsen Curry)
Curry's Best Friend: Roti (Indisches Fladenbrot aus Vollkornmehl)
Ein Chutney kommt selten allein: Minz-Koriander-Chutney & Tamarinden-Limetten-Chutney
Von diesem Dessert will man immer mehr: Kheer (indischer Milchreis)