Korean, vegan temple cuisine with DaeAhn Sunim
Cooking class in English
Korean, vegan temple cuisine with DaeAhn Sunim
Vegan dishes, you would get to eat in a Korean temple
with DaeAhn Sunim
Workshop in Englisch (translated from Korean)
Ever since Netflix featured Korea's vegan monastery kitchen in one of Chef's Table's episodes, this style of cooking has become increasingly popular in Europe, too. Fresh ingredients combined with gentle cooking methods, leaving almost all nutrients in vegetables, herbs and fruits. Nourishing food for body, soul and mind.
In this class, DaeAhn Sunim will talk about the Korean temple kitchen, her specialty, and prepare delicious vegan dishes together with the participants. DaeAhn, who is also a nun, runs a temple in Korea and teaches nutritional science at Seoul University. On her journey through Europe, she stops by to share her knowledge and to cook and eat together. A truely unique opportunity!
Menu (example):
Vegan Bulgogi, the popular Korean dish, without meat, but featuring the typical spices
Veganes Kimchi, no fishsauce or shrimppaste, but with the original Kimchi taste
Soup make with vegan broth and soy bean sprouts
accompaniedby rice with barley
Korean tea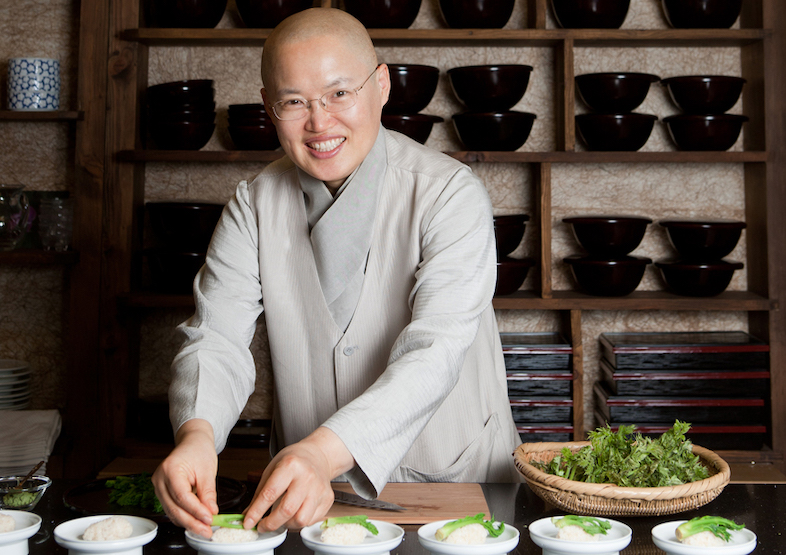 DaeAhn Sunim
DaeAhn Sunim was born in 1960 in Jeonju in Korea. She was ordained a nun in 1986. DaeAhn teaches food science as a professor at Donguk University in Seoul, has been a speaker at the Nobel Peace Dialogue, she runs a temple in Korea, and works as special consultant for temple cooking for the Joegye Order. She is the author of two cookbooks and you can also see her in various Korean television shows cooking according to the basics of Korean monastery cuisine.
Photo: onedayinseoul
Class type:
Cooking in groups — In this class you will form small groups and each group will be cooking some of the dishes listed in the menu. The other dishes will be cooked by your fellow cooking class participants. However, important steps and basic techniques will be demonstrated in front of the entire class and/or practiced together. Of course you will also see and hear what is going on around you and you are very welcome to ask the teacher questions. The class is designed for you to experience diverse dishes and menu components.
Duration:
Generally 3.5 to 4 hours (no guarantee).
Menu (example):
Vegan Bulgogi, the popular Korean dish, without meat, but featuring the typical spices
Veganes Kimchi, no fishsauce or shrimppaste, but with the original Kimchi taste
Soup make with vegan broth and soy bean sprouts
accompaniedby rice with barley
Korean tea