Cooking for everyday: curry paste, miso and soy sauce
Monday, March 30, 2020 at 19 h
Cooking class in German
Cooking for everyday: curry paste, miso and soy sauce
Quick recipes, that always work
with Lisa Shoemaker
Die Speisekammer voller Currypasten indischer und thailändischer Provenienz, Chilisaucen, Tamarindenpaste, Hoisin, Algen, Miso usw.? Für eine Kochaktion gekauft und nun setzen sie Staub an? Wie im Alltag einsetzen, wenn es schnell gehen muss? Ich stand oft genug vor diesem Dilemma und möchte meine gelungenen (qu)asiatischen Versuche mit euch teilen. So habe ich einmal aus übriggebliebenen asiatischen Zutaten ein Suppengemüse "erfunden", nur um später zu entdecken, dass es das bereits in asiatischen Tiefkühlern gab.
Menu:
Salatdressings aus asiatischen Zutaten: für Algen, Gurken und Radieschen
Gemüse: Pilze mit Sojasauce, Auberginen mit Miso, Kartoffen mit Ingwer und Knoblauch
Marinaden für Tofu und Fleisch
Schnelles Dhal (Linsengericht)
Huhn mit Kokos und Limette
Irgendwie asiatischer Nudelsalat
Mogelsushi
Zum Nachtisch eine Panna Cotta mit asiatischen Aromen
Lisa Shoemaker
Lisa Shoemaker cooks and bakes with children, young people and grown-ups. She also writes and translates cook books. Works: Let's Cook (for young people) and Englisch kochen, as Amerikanisch Kochen from the series Gerichte und ihre Geschichte. She translated among others Cynthia Barcomi's baking books.
Class type:
Cooking in groups — In this class you will form small groups and each group will be cooking some of the dishes listed in the menu. The other dishes will be cooked by your fellow cooking class participants. However, important steps and basic techniques will be demonstrated in front of the entire class and/or practiced together. Of course you will also see and hear what is going on around you and you are very welcome to ask the teacher questions. The class is designed for you to experience diverse dishes and menu components.
Location: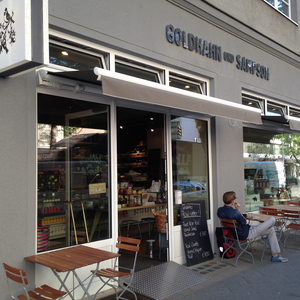 G und S Charlottenburg
Wilmersdorfer Str. 102/103
10629 Berlin
Date:
Monday 30 March, 2020 at 19:00 h
Duration:
Generally 3.5 to 4 hours (no guarantee).
Participants:
max. 16 persons
Menu:
Salatdressings aus asiatischen Zutaten: für Algen, Gurken und Radieschen
Gemüse: Pilze mit Sojasauce, Auberginen mit Miso, Kartoffen mit Ingwer und Knoblauch
Marinaden für Tofu und Fleisch
Schnelles Dhal (Linsengericht)
Huhn mit Kokos und Limette
Irgendwie asiatischer Nudelsalat
Mogelsushi
Zum Nachtisch eine Panna Cotta mit asiatischen Aromen