Journey to Jerusalem
Friday, June 12, 2020 at 19 h
This cooking class is expected to be available for booking on Wednesday 01 July, 2020.
Cooking class in German
Journey to Jerusalem
Kulinarisches aus dem Meltingpot der Religionen
with Shay Dashevsky
Jerusalem als Schnittstelle zwischen Ost und West, zwischen verschiedenen Kulturen und Religionen bietet auch auf kulinarischer Ebene eine fantastische Mischung unterschiedlichster Traditionen. Hier prallen die verschiedensten Kochkünste aufeinander: Jüdisch, Palästinensisch, Nordafrikanisch, Persisch, Osteuropäisch und viele mehr.
In diesem Kurs werden wir die kulinarischen Schätze Jerusalems kennenlernen und einige typische Gerichte kosten, die diese wundervolle Stadt zu bieten hat.
Menu:
Selbstgebackenes Pitabrot
Shulbatu Burghul: Bulgur mit Karotten, Tomaten und Auberginen
Baba Ganoush: gebrannte Auberginen mit Tahini
Hummus mit Champignons in Kurkumaöl
Kräutersalat mit gerösteten Mandeln
Shakshuka: in Tomaten-Paprika-Sauce pochierte Eier
Bananenkuchen mit Schokolade, Rosensahne und Halvecreme
(Die Gerichte sind vegetarisch, größtenteils auch vegan)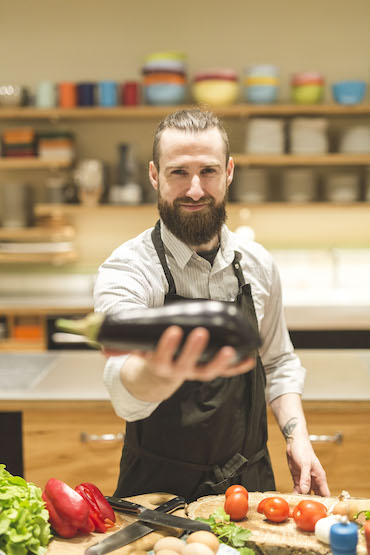 Shay Dashevsky
Born in Israel, Shay grew up in a big melting pot, literally. Raised in a former Soviet family, Shay witnessed and tasted Western Asian influences from his grandmother first hand. Surrounded with smells coming from the mixed Moroccan, Iranian, Yemeni neighborhood in the suburban Israeli city, where every open windows was a sweet invitation, Shay began his never ending journey to fusion his past and present, specially after moving to Jaffa. Arabic and Western Asian, Middle Eastern, Ukrainian and Georgian dishes: this course is an open invitation to join this passion for food.
Class type:
Cooking in groups — In this class you will form small groups and each group will be cooking some of the dishes listed in the menu. The other dishes will be cooked by your fellow cooking class participants. However, important steps and basic techniques will be demonstrated in front of the entire class and/or practiced together. Of course you will also see and hear what is going on around you and you are very welcome to ask the teacher questions. The class is designed for you to experience diverse dishes and menu components.
Location: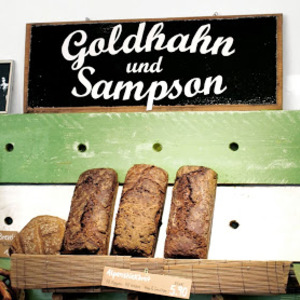 G und S Prenzlauer Berg
Dunckerstr. 9
10437 Berlin
Date:
Friday 12 June, 2020 at 19:00 h
Duration:
Generally 3 to 3.5 hours (no guarantee).
Participants:
max. 12 persons
Menu:
Selbstgebackenes Pitabrot
Shulbatu Burghul: Bulgur mit Karotten, Tomaten und Auberginen
Baba Ganoush: gebrannte Auberginen mit Tahini
Hummus mit Champignons in Kurkumaöl
Kräutersalat mit gerösteten Mandeln
Shakshuka: in Tomaten-Paprika-Sauce pochierte Eier
Bananenkuchen mit Schokolade, Rosensahne und Halvecreme
(Die Gerichte sind vegetarisch, größtenteils auch vegan)