N A B E . Japanese Hot Pots
Cooking class in German
N A B E . Japanese Hot Pots
festive fondue from far away
with Kaoru Iriyama
Hot Pot - auf Japanisch "Nabe" - ist ein geselliges Essen: Ähnlich wie Fondue genießt man es am liebsten im Kreis guter Freunde, und alle Gäste sind an der Zubereitung beteiligt. Anders als Fondue ist Nabe jedoch sehr fettarm, bekömmlich und gesund, da man dabei vielerlei kurz blanchiertes Gemüse zu sich nimmt.
In Japan gibt es unzählige Nabe-Varianten. Zwei typische, die gleichzeitig als Festessen gelten, werden im Kurs vorgestellt: Sukiyaki und Mizutaki.
Sukiyaki: Das ist hauchdünn geschnittenes Rindfleisch, Tofu und Gemüse in einer intensiven, süßen Soya-Sauce. Am Ende wird Sukiyaki mit Udon (dicke japanische Weizennudel) als Nudelgericht gegessen.
Mizutaki: Hühnerfleisch, Blattgemüse, Tofu und Pilze in einer klaren Brühe mit Seetangessenz. Dazu werden zwei Dipps gereicht: pikante Sesamcreme und erfrischende Ponzu (Limetten-Sojasauce). Am Ende wird die Suppe mit Reis und Eiern gestockt.
Die Zubereitung von Nabe ist einfach, umso wichtiger ist die Vorbereitung der Zutaten, worauf im Kurs ausgiebig eingegangen wird. Das Besondere an Nabe sind die verschiedenen Geschmacksrichtungen, die man aus einem Hot Pot genießen kann: Anfangs ist die Brühe fein und dünn, das Gemüse knackig. Zunehmend wird die Suppe intensiver, der Geschmack der Zutaten vereinigt sich - und zum Schluss genießt man den Hot Pot mit Reis, Nudeln und Eiern. Mit Sake, Bier oder Wein ist Nabe das perfekte Essen für eine gesellige Runde. Und da es Körper und Herz erwärmt, gibt es zum Nachtisch ein kühlende japanische Sweets!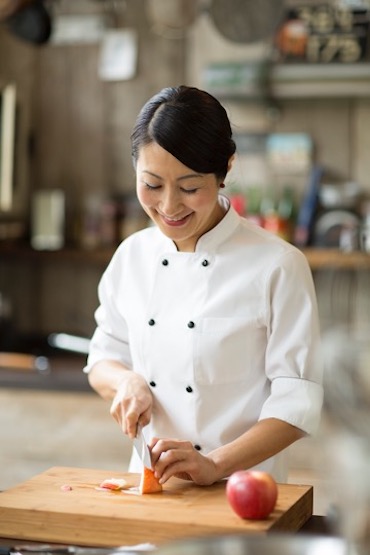 Kaoru Iriyama
Kaoru, in Tokio geboren, lebt seit 1998 in Berlin. Das Geheimnis der japanischen hohen Küche, in der Geschmack, Ästhetik und gesundheitliche Zuträglichkeit der Speisen eine harmonische Verbindung eingehen, hat sie u.a. bei dem Meisterkoch Koyama Hirohisa in seiner renommierten Kochakademie in Japan und seinem Restaurant "Aoyagi" gelernt. Die wahre Zen-Kloster-Küche hat sie auch direkt in der Küche des größten Zen-Tempels "Eiheiji" kennengelernt. Den Teilnehmern ihrer Kurse bringt sie nicht nur die authentische japanische Küche nahe: Sie erfahren auch viel über Warenkunde und traditionelle japanische Ernährungslehre - was Kaorus Kurse nicht nur zu einem Geschmackserlebnis macht, sondern zugleich zu einer einzigartigen kulturellen Erfahrung. In letzten Jahren arbeitet sie mit Panasonic und mit dem japanischen Agrarministerium zusammen. Mehr über Kaoru Iriyama: www.kaoru-iriyama.com
Class type:
Cooking in groups — In this class you will form small groups and each group will be cooking some of the dishes listed in the menu. The other dishes will be cooked by your fellow cooking class participants. However, important steps and basic techniques will be demonstrated in front of the entire class and/or practiced together. Of course you will also see and hear what is going on around you and you are very welcome to ask the teacher questions. The class is designed for you to experience diverse dishes and menu components.
Duration:
Generally 3 to 3.5 hours (no guarantee).