Khana means food
Cooking class in German
Khana means food
Indian menu to mark the festival of lights
with Krithika do Canto
Food and Medicine are not separated in Ayurveda, ingredients are carefully chosen to create a balanced meal with healing properties. The spices are delicately added to flavour and not owerpower the food. Traditionally, the most intimate part of a house in India was the kitchen which outsiders were banned from entering so that the food would not be tainted energetically by their presence. This course demystifies some of the secrets of the Indian kitchen with an introduction to some of the basic spices, the benefits of using them and stories abou the rituals of preparing and enjoying a traditional Indian meal.
South Indian Diwali Meal (Diwali is one of the South Indian new years that falls around October November)
Puliyodre
Tamarind rice with jaggery and almonds

Mint Chutney
A spicy sauce with mint and ginger

Sambar
Lentils with potatoes and green beans

Pumpkin Curry
Sweet and hot curry with pumpkin, jaggery and tamarind

Mango Raitha
Yoghurt with ginger, mango and coconut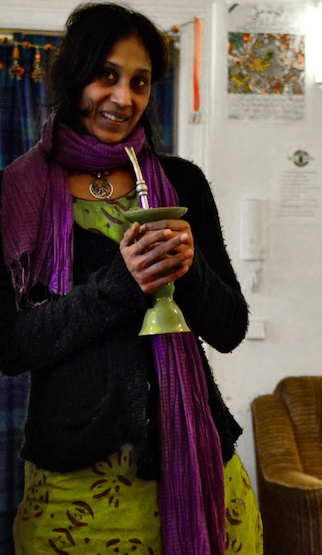 Krithika do Canto
Krithika do Canto, who praises her mother's cooking skills, has been teaching Ayurvedic classes at Goldhahn and Sampson since 2010. After spending some years studying Ayurveda and becoming a yoga instructor, she modified many of her mother's recipes to adhere to a Sattvic diet, appropriate for people who are interested in yoga and meditation.
Class type:
Cooking in teams of two — In this class you will cook together with a partner (or sometimes 2 partners) at one station. You will be preparing every dish of the menu yourself. Most of the ingredients, already correctly measured, will be waiting for you at your station, so you can start cooking more quickly. Crucial techniques and/or the use of special equipment will be demonstrated by the teacher before you'll have a go yourself. This class is perfect for everyone who likes to have a real hands-on experience.
Duration:
Generally 3.5 to 4 hours (no guarantee).