Journey to Gujarat in English
75,00 EUR
inkl. 19 % MwSt.
Kochkurs auf Englisch
Journey to Gujarat in English
Northwestern Indian Vegetarian Cuisine
mit Dhaval Shah
This culinary course will take you on a journey to Gujarat Dhaval's home region, the land of Gandhi, on the Arabian sea, bordering the deserts of Rajasthan and Sindh, now in Pakistan, known for its crafts and food. Gujarati cuisine is known for its tasty and healthy dishes like the famous Handawa and Dokla which involves steaming, baking and tempering. In Dhaval's class you are going to learn to prepare perfect crispy Okras, sweet savoury steamed cake called Khaman-Dhokla, mouth-watering whole wheat Parathas, creamy herby dal-spinach and pineapple Sheera – the most favourite sweet of all Mumbaikars, the people of Bombay.
Important rules due to Corona
We adhere to the daily guidelines of the Berlin Senate for all courses in our culinary school, so changes at short notice are always possible.
To be able to run cooking classes, we've created a protection and hygiene concept with regards to the current situation. Our cooking class assistants will explain to you the rules before the beginning of the course. These are the most important changes:
As only two people will operate a cooking station, you need to book 2 tickets. Single tickets cannot be purchased for the time being, as the participants must be people from the same household or people from an acquainted household. Of course you can join a cooking class on your own, but you would need to buy two tickets and run your own cooking station.
All cooking course participants as well as cooking course teachers and assistants must wear a mouth and nose protector when entering the store, while cooking or when going to the toilet. It is not necessary to wear a mask when eating at the table.
Alcohol is only served at the table during the meal.
While cooking you are not allowed to walk around the kitchen and 'visit' other cooking stations. Due to safety reasons everyone has to stay at their own station.
We have to insist on compliance with our protection and hygiene concept. Our staff will of course help to ensure that everything runs smoothly.
Menü (beispielhaft):
Dry crispy masala okra
Spinach dal
Khaman-Dhokla
Paratha
Rice
Pineapple sheera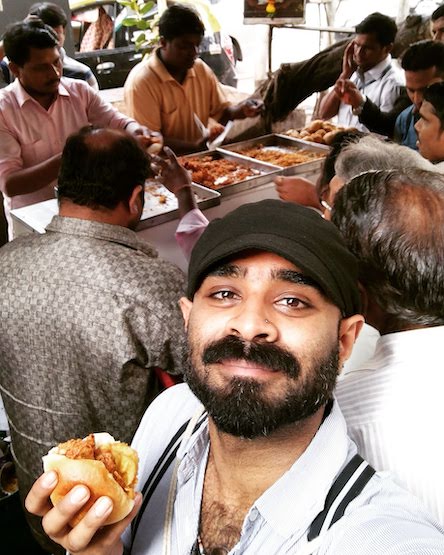 Dhaval Shah
Born in 1985 in India, Dhaval grew up around a big joint family kitchen, learning family tradition, recipes and tips and the enthusiasm of cooking at a large scale for the joy of feeding people.
Travelling abroad while studying architecture exposed him to cuisines of different cultures and their techniques. Returning back home, marrying this exposure to local food and ingridients, he started catering to friends, family and for college parties.
This has continued during his current studies for Masters in Landscape at Bauhaus, Anhalt. Be it baking, steaming, sauteing and even fermenting, he has done it all or would want to try it out.
No matter which kitchen he chooses to make his home for the few hours before dinner is served, like a good wizard carries his own magic wand, his own belan (a rolling pin) from Ahmedabad is always with him.
Foto: Dhaval Shah
Kurstyp:
Alles selbermachen — Dieser Kurs ist darauf ausgelegt, dass Ihr in Teams von zwei (oder auch drei) Personen alles selbst zubereitet. In der Regel sind die meisten Zutaten schon abgewogen und auf die Stationen verteilt, so dass Ihr gleich starten könnt. Wichtige Techniken oder der Einsatz von besonderem Gerät werden vom Kochlehrer gezeigt, bevor ihr selbst los legt. Wer alles ganz genau wissen will und die totale Hands-On-Erfahrung sucht, ist hier goldrichtig.
Dauer:
In der Regel 3.5 bis 4 Stunden (ohne Gewähr).
Menü (beispielhaft):
Dry crispy masala okra
Spinach dal
Khaman-Dhokla
Paratha
Rice
Pineapple sheera