DOSAI: Süd-Indische Pfannkuchen
Cooking class in German
DOSAI: Süd-Indische Pfannkuchen
Köstlich-gefüllte Dosas mit leckeren Chutneys
with Krithika do Canto
In Südindien besteht das Frühstück aus einmaligen kulinarischen Köstlichkeiten: gedämpft oder gebratene fermentierte Reisfladen. Diese Dosas (oder auch Dosai) werden zusammen mit scharfen Chutneys und Curries gegessen und eigenen sich daher wunderbar für einen Brunch oder sogar für's Abendessen hierzulande.
In diesem Kurs lernt ihr wie man die süd-indischen (veganen) Pfannkuchen selbst herstellt und natürlich auch wie man Chutneys und Currys für die Füllung zubereitet.
Menu (example):
Dosai (weizenfrei, zubereitet aus Reis und Urdbohnen)
Kartoffelfüllung für Masala Dosai
Sambar-Füllung: Würziges Curry mit Bohnen, Rettich, Auberginen und Kartoffeln
Koriander-Chutney: Scharfe traditionelle Begleitung für Dosas
Peerkanga-Chutney: Schnelles Chutney mit Zucchini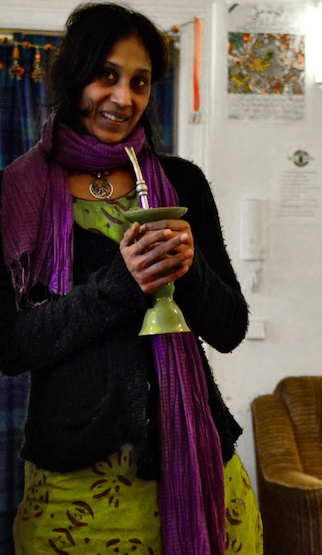 Krithika do Canto
Krithika do Canto, who praises her mother's cooking skills, has been teaching Ayurvedic classes at Goldhahn and Sampson since 2010. After spending some years studying Ayurveda and becoming a yoga instructor, she modified many of her mother's recipes to adhere to a Sattvic diet, appropriate for people who are interested in yoga and meditation.
Class type:
Cooking in groups — In this class you will form small groups and each group will be cooking some of the dishes listed in the menu. The other dishes will be cooked by your fellow cooking class participants. However, important steps and basic techniques will be demonstrated in front of the entire class and/or practiced together. Of course you will also see and hear what is going on around you and you are very welcome to ask the teacher questions. The class is designed for you to experience diverse dishes and menu components.
Duration:
Generally 3 to 3.5 hours (no guarantee).
Menu (example):
Dosai (weizenfrei, zubereitet aus Reis und Urdbohnen)
Kartoffelfüllung für Masala Dosai
Sambar-Füllung: Würziges Curry mit Bohnen, Rettich, Auberginen und Kartoffeln
Koriander-Chutney: Scharfe traditionelle Begleitung für Dosas
Peerkanga-Chutney: Schnelles Chutney mit Zucchini