Wine and Dine: Weingut Carl Erhard
Friday, April 3, 2020 at 19 h
Seminar and tasting in German
Wine and Dine: Weingut Carl Erhard
Weintasting und Dinner
with Carl Ehrhard und Petra Rimkus
Ein einmaliger Abend im Goldhahn und Sampson: Es gibt ein 4-Gänge-Menü, gepaart mit großartigen Weinen aus dem Rheingau vom Weingut Carl Ehrhard. Carl Ehrhard höchstpersönlich kommt zu uns nach Berlin, begleitet den Abend und hat eine tolle Auswahl seiner Weine im Gepäck. Natürlich perfekt abgestimmt auf das Menü.
Im Herzen des Rheingaus, in Rüdesheim am Rhein, bewirtschaften die Ehrhards in 5. Generation ihren Familienbetrieb. Seit 130 Jahren werden Riesling und Spätburgunder in höchster Qualität ausgebaut und im Weinkeller nach den Arbeitsweisen der Großväter, kombiniert mit den Möglichkeiten der heutigen Technik, vollendet. Alle Rieslinge werden in Holzfässern ausgebaut, eine echte Besonderheit. Das die Ehrhards auch weit über den Rheinhau hinaus mit ihren Weinen beeindrucken, zeigen die Auszeichnungen der beiden wichtigsten Weinguides Deutschlands: gleich zwei mal wurden sie Aufsteiger des Jahres (2017 Eichelmann, 2020 Vinum)
Bitte bei der Buchung angeben, ob ein vegetarisches Menü gewünscht wird. Einzelne Gänge können leider nicht ausgetauscht werden.
Es wird ein genussvoller, lehrreicher und vinophiler Abend.
Der Weinabend ist für Vegetarier leider nicht geeignet.
(Dies ist ein Kochkurs, sondern das Menü wird von einer Köchin zubereitet, während Roberto seine Weine vorstellt. Natürlich darf man aber auch mal in der Küche vorbei schauen...)
Menu:
Carl Ehrhard und Petra Rimkus
Die Ehrhards über ihre Weine und die Arbeit im Weingut: Die Qualität unseres Weines entscheidet sich mit der sorgsamen Arbeit im Weinberg. Unsere Weine sind individualisten, die ihr ganz spezielles Terroir widerspiegeln. Rüderheimer Weinbergslagen wie BERG ROTTLAND, BERG ROSENECK, BISCHOFSBERG, KLOSTERBERG UND KLOSTERLAY gehören zu den besten Riesling und Späteburgungder Lagen im Rheingau.Die ausgeprägte Südhanglage sowie die mineralischen Böden, gemischt mit dem wärmespeichernden Verwitterungsschiefer verleihen unseren Weinen eine opulente und faszinierende Geschmacksfülle. Weine die man einfach nur genießen sollte, ohne sie immer in Worte zu fassen. Petra Rimkus, Jahrgang 75, wurde in der Lüneburger Heide geboren, was eine Karierre als Fisch-Dompteuse nicht gerade nahe legt... Sie klaute schon als Kind ihrer Oma die Töpfe und Löffel aus der Küche, um im Garten zu kochen. Damit war ihr Schicksal besiegelt und ihr beruflicher Werdegang vorgezeichnet. Bald schon aber rückte das Meeresgetier mit einem Umzug nach Hamburg in greifbare Nähe. Dort entwickelte sich dann auch die große Affinität zum Fisch in jeder Form. Seit 2002 tobt sich Petra in Berlins Küchen aus und hat 2012 ihren eigenen Cateringservice deli.cat gegründet.
Photo: Weingut Carl Ehrhard
Class type:
Seminar and tasting
Location: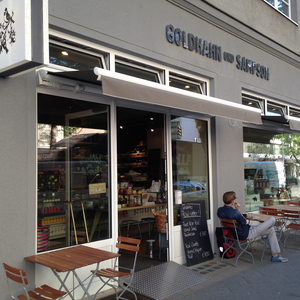 G und S Charlottenburg
Wilmersdorfer Str. 102/103
10629 Berlin
Date:
Friday 03 April, 2020 at 19:00 h
Duration:
Generally 3.5 to 4 hours (no guarantee).
Participants:
max. 16 persons