From Cairo to Marakech in English
Friday, 19 July 2019 at 19 h
Cooking class in English
From Cairo to Marakech in English
North African cuisine
with Lisa Shoemaker English
The influences of the North African cuisine reach from Berber to the Ottoman, the French and Subsaharan Africans. This class brings to you a medley of North-African Dishes, suitable for meat eaters, vegans and anyone in-between.
Please leave comment while booking, that you wish to take a vegan or vegetarian option.
Menu:
Saltit blanquit: Tunesian salad on baguette. We'll prepare a vegetable spread with harissa, to be topped with olives, capers, tuna and eggs, leave out anything you don't care to eat.
Mechouia: Tunesian Grilled Vegetable Salad
Ful medammis: Broad Bean Paste from Egypt
Fish oder Zucchini with chermoula: a Moroccan marinade with herbs
Lamb Tagine with apricots
Vegan/vegetarian Option: Koshari, the street food of Kairo, meat and dairy free, though I like to serve it with tahini yoghurt, which is not traditional
Stuffed Dates
Rice Pudding with Pistachios and Dates, the non-dairy version is made with coconut milk
Lisa Shoemaker English
Lisa Shoemaker cooks and bakes with children, young people and grown-ups. She also writes and translates cook books. Works: Let's Cook (for young people) and Englisch kochen, as Amerikanisch Kochen from the series Gerichte und ihre Geschichte. She translated among others Cynthia Barcomi's baking books. Picture: Lisa in North Africa
Class type:
Cooking in groups — In this class you will form small groups and each group will be cooking some of the dishes listed in the menu. The other dishes will be cooked by your fellow cooking class participants. However, important steps and basic techniques will be demonstrated in front of the entire class and/or practiced together. Of course you will also see and hear what is going on around you and you are very welcome to ask the teacher questions. The class is designed for you to experience diverse dishes and menu components.
Location: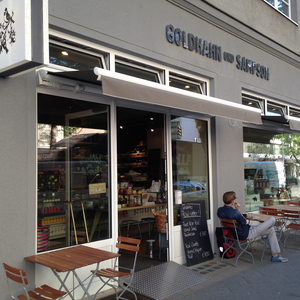 G und S Charlottenburg
Wilmersdorfer Str. 102/103
10629 Berlin
Date:
Friday 19 July, 2019 at 19:00 h
Duration:
Generally 3.5 to 4 hours (no guarantee).
Participants:
max. 16 persons
Menu:
Saltit blanquit: Tunesian salad on baguette. We'll prepare a vegetable spread with harissa, to be topped with olives, capers, tuna and eggs, leave out anything you don't care to eat.
Mechouia: Tunesian Grilled Vegetable Salad
Ful medammis: Broad Bean Paste from Egypt
Fish oder Zucchini with chermoula: a Moroccan marinade with herbs
Lamb Tagine with apricots
Vegan/vegetarian Option: Koshari, the street food of Kairo, meat and dairy free, though I like to serve it with tahini yoghurt, which is not traditional
Stuffed Dates
Rice Pudding with Pistachios and Dates, the non-dairy version is made with coconut milk