Forever Young in Okinawa
Thursday, January 30, 2020 at 19 h
Cooking class in German
Forever Young in Okinawa
Unglaublich, aber wahr: zuckerfrei, getreidefrei, mehlfrei, low carb, glutenfrei, vegan
with Ulrike Seeber
Ulrike Seeber, "High Energy" Ernährungscoach und passionierte "Healthy" Köchin zeigt, dass japanische Küche auch ohne Fleisch, Fisch und weißen Reis geht. Die Wahl-Berlinerin, die selbst einige Monate in verschiedenen asiatischen Ländern gelebt hat, entführt euch einen Abend lang nach Okinawa, der Insel der Hundertjährigen. Ihr werdet erfahren wie gesunde Ernährung zum außergewöhnlich langen, schlanken und glücklichen Leben der Okinawas beiträgt und wie ihr diese Prinzipien kulinarisch auf Ihren Teller bringen: Authentisch. Gesund. Und voller Pflanzenpower. Wir starten mit einem erfrischenden Appetizer aus Gurke, Sellerie und geröstetem Sesam. Danach werden wir in Miso glasierte Auberginen zaubern. Das Herzstück des Menüs ist Sushi aus rohem Blumenkohl, Avocado und Mandelmajonnaise. Abgerundet wird die Reise nach Okinawa durch eine Panna Cotta von der Kokosnuss auf Ananas Carpaccio.
Menu:
Gurke, Sellerie, gerösteter Sesam
Miso glasierte Auberginen
Sushi aus rohem Blumenkohl, Avocado und Mandelmajonnaise
Panna Cotta von der Kokosnuss auf Ananas Carpaccio
Ulrike Seeber
"Die Energie unserer Nahrung wird unmittelbar zur Energie unseres Selbst" Ulrikes Mission ist es Menschen durch eine gesunde, zuckerfreie und überwiegend pflanzliche Ernährungsweise zu Energiechampions zu machen. Nachdem sie durch ein medizinisches Wunder nur knapp einer Querschnittslähmung entkam, traf sie die Entscheidung alles in ihrer Macht stehende zu tun, um ihre Gesundheit und die ihrer Mitmenschen zu erhalten. Sie lernte bei den besten Köchen der Welt wie man "Plantbased", "vegane Rohkost" und "Ketogenes bzw Low Carb Essen" zubereitet und sah wie Menschen durch eine bloße Ernährungsumstellung ihre Lebensenergie oder ihre Libido steigern konnten, mit Genuss an Gewicht vorloren und dabei ihre Gesundheit zurückeroberten. Neben ihrer Arbeit als Ernährungscoach und Kochbuchautorin gibt sie Workshops und Seminare für Unternehmen und Menschen, die ihre körperliche und mentale Energie steigern wollen
Photo: Ulrike Seeber
Class type:
Cooking in groups — In this class you will form small groups and each group will be cooking some of the dishes listed in the menu. The other dishes will be cooked by your fellow cooking class participants. However, important steps and basic techniques will be demonstrated in front of the entire class and/or practiced together. Of course you will also see and hear what is going on around you and you are very welcome to ask the teacher questions. The class is designed for you to experience diverse dishes and menu components.
Location: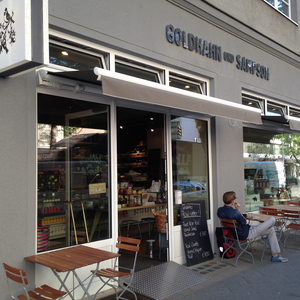 G und S Charlottenburg
Wilmersdorfer Str. 102/103
10629 Berlin
Date:
Thursday 30 January, 2020 at 19:00 h
Duration:
Generally 3.5 to 4 hours (no guarantee).
Participants:
max. 16 persons
Menu:
Gurke, Sellerie, gerösteter Sesam
Miso glasierte Auberginen
Sushi aus rohem Blumenkohl, Avocado und Mandelmajonnaise
Panna Cotta von der Kokosnuss auf Ananas Carpaccio