Fish & Seafood: Basics
Tuesday, April 7, 2020 at 19 h
Cooking class in English
Fish & Seafood: Basics
How to fillet, debone and cook fish
with Anthony Joynes
Shucking oysters scares you? When filleting fish, you don´t even know where to start? Fear no more! In this class around seafood and fish you will learn how to identify the freshness of fish as well as the different steps of preparation and cooking. You will get to know lots of skills, tricks, and tips from a professional chef and take with you the confidence to master seafood at home. Once you know how, it´s so much fun to experiment with fish in your own kitchen and finally integrate this healthy, delicious, omega 3-packed food into your cooking routine.
Menu:
fish-croquette, lemon mayonnaise (amuse-bouche)
oysters with chive-vinaigrette
cured trout, horseradish
sea bream en papillote with mediterranean veggies
milkrice, caramel sauce, almonds
Anthony Joynes
Anthony Joynes is in the cooking industry since 20 years, he´s trained in traditional french cuisine as well as fine italian food and has a personal love for spicy asian food. His career started in New Zealand where he was born, and took him to some of the best restaurants in Australia before working in Michelin-starred restaurants in London and finally Berlin. Since three years he has settled down in Charlottenburg, running the restaurant "Joynes Kitchen" together with his wife. Based on his traditional training, he loves to work with seasonal ingredients, using all parts of the animal, and working as resourceful as possible while creating flavourful and surprising dishes.
Photo: Marco Hartz
Location: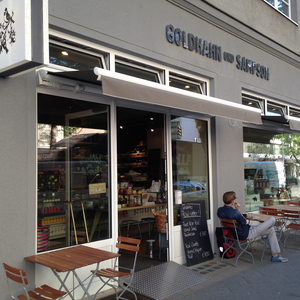 G und S Charlottenburg
Wilmersdorfer Str. 102/103
10629 Berlin
Date:
Tuesday 07 April, 2020 at 19:00 h
Duration:
Generally 3.5 to 4 hours (no guarantee).
Participants:
max. 16 persons
Menu:
fish-croquette, lemon mayonnaise (amuse-bouche)
oysters with chive-vinaigrette
cured trout, horseradish
sea bream en papillote with mediterranean veggies
milkrice, caramel sauce, almonds