Fish Basics
Thursday, April 2, 2020 at 19 h
Cooking class in German
Fish Basics
Beizen, pochieren, braten & niedriggaren
with Petra Rimkus
Fisch ist gesund, aber allzuviel sollte man davon auch nicht essen um die Meere zu schonen, richtig? In diesem Kurs wird daher mit größtenteils regionalen Zuchtfischen gekocht, aus denen man wunderbare Gerichte zaubern kann, ohne schlechtes Gewissen. Neben Saibling (ein naher Verwandter der Forelle) und Zander, wird es auch Zuchtlachs aus Norwegen oder Schottland geben.
Petra zeigt in diesem Grundlagen-Kurs wie man Fisch fachgerecht filetiert. Außerdem werden unterschiedliche Zubereitungstechniken wie beizen, pochieren, braten und das Garen im Ofen angewendet. Ein Fischfond wird angesetzt und einige klassische Saucen zum Fisch werden erlernt.
Menu:
Gebeizter Lachs in Dill und Weißem Pfeffer
Kurz gebratene Saiblingsfilets mit knuspriger Haut
Pochierter Lachs in Kokos und Limette
Im Ofen niedergegarter Zander
Fischsuppe mit Muscheln
dazu junge Kartoffeln und Blattsalat
Petra Rimkus
Petra Rimkus, Jahrgang 75, wurde in der Lüneburger Heide geboren, was eine Karierre als Fisch-Dompteuse nicht gerade nahe legt... Sie klaute schon als Kind ihrer Oma die Töpfe und Löffel aus der Küche, um im Garten zu kochen. Damit war ihr Schicksal besiegelt und ihr beruflicher Werdegang vorgezeichnet. Bald schon aber rückte das Meeresgetier mit einem Umzug nach Hamburg in greifbare Nähe. Dort entwickelte sich dann auch die große Affinität zum Fisch in jeder Form. Seit 2002 tobt sich Petra in Berlins Küchen aus und hat 2012 ihren eigenen Cateringservice deli.cat gegründet.
Photo: Shay Dashevsky
Class type:
Cooking in teams of two — In this class you will cook together with a partner (or sometimes 2 partners) at one station. You will be preparing every dish of the menu yourself. Most of the ingredients, already correctly measured, will be waiting for you at your station, so you can start cooking more quickly. Crucial techniques and/or the use of special equipment will be demonstrated by the teacher before you'll have a go yourself. This class is perfect for everyone who likes to have a real hands-on experience.
Location: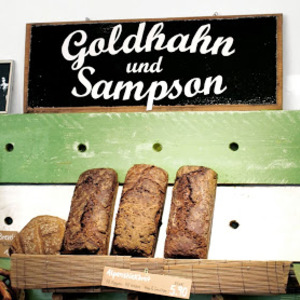 G und S Prenzlauer Berg
Dunckerstr. 9
10437 Berlin
Date:
Thursday 02 April, 2020 at 19:00 h
Duration:
Generally 3 to 3.5 hours (no guarantee).
Participants:
max. 12 persons
Menu:
Gebeizter Lachs in Dill und Weißem Pfeffer
Kurz gebratene Saiblingsfilets mit knuspriger Haut
Pochierter Lachs in Kokos und Limette
Im Ofen niedergegarter Zander
Fischsuppe mit Muscheln
dazu junge Kartoffeln und Blattsalat