Asparagus: RAW and cooked
Raw food class in German
Asparagus: RAW and cooked
New dishes, creative recipes
with Boris Lauser
Spargel ist des Deutschen liebstes Frühlingsgemüse und von April bis Juni dreht sich in Deutschland alles um die begehrten Stangen. Meist einfach gekocht, mit Butter und Petersilie und Kartoffeln, klassisch halt und immer lecker. Unser Raw Food & Plant Based Chef Boris Lauser hat hier aber noch ein paar andere Tricks und Zubereitungstechniken auf Lager, was sich alles mit diesem aphrodisierenden Gemüse anstellen lässt. Sowol gekocht, im Ofen, als auch roh verarbeitet und sogar in Desserts: es gibt noch viele ungeahnte Möglichkeiten, Spargel deliziös auf den Teller zu zaubern. Alle Zutaten in Boris Kursen sind wie immer rein pflanzlich, vegan, glutenfrei und weitestgehend aus biologischem Anbau.
Menu (example):
Schaumig-warme Spargelcreme aus rohem Spargel mit süss-saurem Rhabarber
Grüner Spargel im Auberginen 'Speck'-Mantel
Weisser Spargel im Cartuccio, Zucchini Schnitzel, Kürbis Gnocchi, Pesto
Spargel Panna Cotta und frische Erdbeeren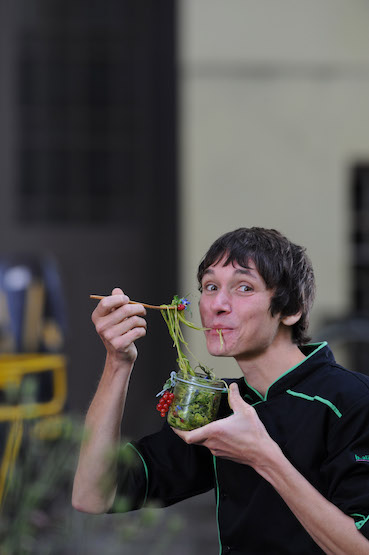 Boris Lauser
Boris Lauser, vom Cicero als Der Koch ohne Herd bezeichnet, zaubert aus besten rohen, veganen Zutaten kulinarische Meisterwerke. Gelernt hat Boris Lauser die Kunst der feinen Raw Food Cuisine an den besten Schulen in den USA und auf Bali, wo er auch heute noch luxuriös exotische Retreats leitet. In Berlin betreibt Boris einen Gourmet Dinner Club, gibt Kurse und Kochseminare und wird weltweit für Events, Seminare und auch Restaurant Beratung gebucht.
Im Januar 2015 erschien sein erstes Buch: Go Raw - Be Alive! Infos zu seinen anderen Kursen, weltweiten Seminaren und Anfragen für Caterings sowie Privat- oder Restaurantberatung findet ihr auf seiner Webseite www.borislauser.com.
Photo: Annett Melzer
Class type:
Cooking in groups — In this class you will form small groups and each group will be cooking some of the dishes listed in the menu. The other dishes will be cooked by your fellow cooking class participants. However, important steps and basic techniques will be demonstrated in front of the entire class and/or practiced together. Of course you will also see and hear what is going on around you and you are very welcome to ask the teacher questions. The class is designed for you to experience diverse dishes and menu components.
Duration:
Generally 3 to 3.5 hours (no guarantee).
Menu (example):
Schaumig-warme Spargelcreme aus rohem Spargel mit süss-saurem Rhabarber
Grüner Spargel im Auberginen 'Speck'-Mantel
Weisser Spargel im Cartuccio, Zucchini Schnitzel, Kürbis Gnocchi, Pesto
Spargel Panna Cotta und frische Erdbeeren