Raw Dinnerparty mit Naturwein
Raw food class in German
Raw Dinnerparty mit Naturwein
Rohkost deluxe
with Boris Lauser
Boris Lauser gibt seit 2009 extravagante Dinner Abende in seinem kleinen Studio Loft in Berlin Mitte/Kreuzberg, wo er seine Gäste im Rahmen eines Dinner Clubs mit feinen 4 oder 5 Gänge Menüs verführt und passende Weinbegleitungen mit speziell auserlesenen Weinen anbietet. Seine Kreationen sind immer neu und bleiben auch normalerweise geheim, hier erfüllt Boris seine Kreative Ader. Am Abend wird nur geschlemmt und genossen, Boris macht den Gastgeber und richtet die Kunstwerke an. In diesem Kurs habt ihr nun aber die einzigartige Möglichkeit selbst Herr seiner Kreationen zu werden und unter seiner Anleitung ein tolles 5 Gänge Menü zu zaubern, welches nicht nur eure Gaumen sondern auch Augen verführen wird. Ein kulinarisches Erlebnis der besonderen Art, denn der Ofen bleibt aus, alles wird rein aus Gemüsen und pflanzlichen Zutaten hergestellt und nicht über 42 Grad erhitzt, also nach Rohkost Kriterien zubereitet, aber mit "Roher Kost" hat das nicht mehr viel zu tun, sondern vielmehr mit zeitgemässer gesunder Ernährung auf hohem kulinarischen Niveau. Seht selbst:
Menu (example):
Marinierte Kräutersaitlinge auf Feldsalat-Mandelcreme, Olivenerde
Miso-panierte Trauben, Feldsalat, Beerendressing, Walnüsse
Herbstrollen an Mandel-Ingwercreme und Pflaumen Chutney
Kürbis Linguini mit Pilzen und Mohn
Pflaumen-Lucuma Streusel, Vanille-Tonka Eiscreme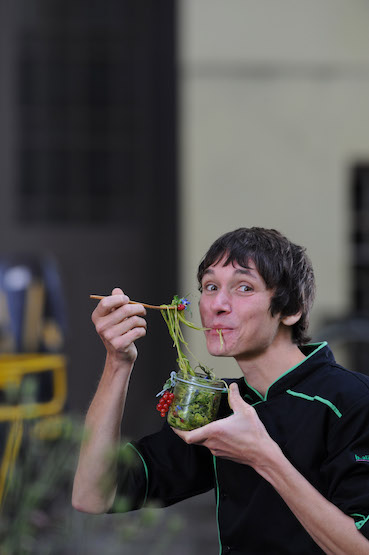 Boris Lauser
Boris Lauser, vom Cicero als Der Koch ohne Herd bezeichnet, zaubert aus besten rohen, veganen Zutaten kulinarische Meisterwerke. Gelernt hat Boris Lauser die Kunst der feinen Raw Food Cuisine an den besten Schulen in den USA und auf Bali, wo er auch heute noch luxuriös exotische Retreats leitet. In Berlin betreibt Boris einen Gourmet Dinner Club, gibt Kurse und Kochseminare und wird weltweit für Events, Seminare und auch Restaurant Beratung gebucht.
Im Januar 2015 erschien sein erstes Buch: Go Raw - Be Alive! Infos zu seinen anderen Kursen, weltweiten Seminaren und Anfragen für Caterings sowie Privat- oder Restaurantberatung findet ihr auf seiner Webseite www.borislauser.com.
Photo: Annett Melzer
Class type:
Cooking in groups — In this class you will form small groups and each group will be cooking some of the dishes listed in the menu. The other dishes will be cooked by your fellow cooking class participants. However, important steps and basic techniques will be demonstrated in front of the entire class and/or practiced together. Of course you will also see and hear what is going on around you and you are very welcome to ask the teacher questions. The class is designed for you to experience diverse dishes and menu components.
Duration:
Generally 3.5 to 4 hours (no guarantee).
Menu (example):
Marinierte Kräutersaitlinge auf Feldsalat-Mandelcreme, Olivenerde
Miso-panierte Trauben, Feldsalat, Beerendressing, Walnüsse
Herbstrollen an Mandel-Ingwercreme und Pflaumen Chutney
Kürbis Linguini mit Pilzen und Mohn
Pflaumen-Lucuma Streusel, Vanille-Tonka Eiscreme