Best of Burger
Cooking class in German
Best of Burger
Homemade Burgervielfalt
with Helena Friebel
Alle lieben Burger. Sie sind das Soul Food schlechthin. Die Kombinationen aus Brötchen (Bun), Fleisch (Patty) oder Fisch, Saucen und Salat sind unendlich.
In diesem Kurs machen wir unsere eigenen fluffig-gebackenen Buns, drehen das Fleisch frisch durch den Fleischwolf und experimentieren mit neuen Zutaten. Wir kochen Relish und Chutney und machen selbst Aioli. Als Beilage gibt es knusprige Süßkartoffelpommes aus dem Ofen.
Und zum Schluss bauen wir die besten Gourmet Burger Berlins, die dann gemeinsam verspeist werden.
Je nach Saison können die Zutaten der Burger etwas variieren.
Menu (example):
Chili-Cheeseburger: Rindfleisch-Patty, Chili-Cheese-Sauce, Jalapenos, Eisbergsalat
Shrimpy: Gegrillte Shrimps, Eisbergsalat, Orangen-Aioli
Crunchy Chicken: Hähnchenbrut in Knusperpanade, Gruyère, Feldsalat, Tomaten-Chutney
Double Pork Hawaii: Schweinefilet-Patty, karamellisierter Bacon, frische gegrillte Ananas, Gouda, Ketchup, Romanasalat
Beilage: Süßkartoffelpommes aus dem Ofen
Vorab: Sloppy Joe: Hackfleischsauce, Cornichons, Cheddar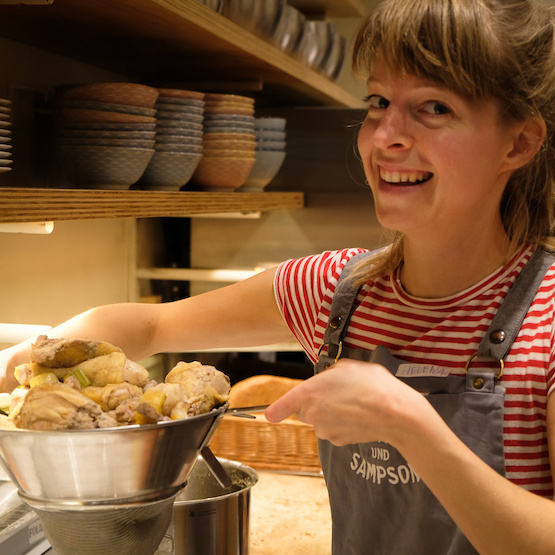 Helena Friebel
Die Grundlagen des Kochens hat Helena ganz klassisch von Mama und Oma erlernt. Untypischer Weise gab es im heimatlichen Wohnzimmer in Westfalen einen holzbefeuerten Pizza-Ofen. So sammelte sie erste Kochkurs-Erfahrungen bei ihren eigenen Kindergeburtstagen, indem sie erklärte wie man die Pizza so ausrollt, dass sie nicht an der Arbeitsplatte festklebt (immer schön Mehl drunter!). In einem früheren Leben war Helena einmal Kommunikationsberaterin. Dann ist sie ihrem Hunger gefolgt und ging als Kochschwester in Berliner Gastro- und Streetfoodküchen in die Lehre. Sie betrieb einen Pop-up Breakfast Club, veranstaltete Dinnerabende und macht Caterings. Außerdem entwickelt sie Rezepte und kocht in verschiedenen Webvideo-Formaten.
Photo: Nina Dörner
Class type:
Cooking in groups — In this class you will form small groups and each group will be cooking some of the dishes listed in the menu. The other dishes will be cooked by your fellow cooking class participants. However, important steps and basic techniques will be demonstrated in front of the entire class and/or practiced together. Of course you will also see and hear what is going on around you and you are very welcome to ask the teacher questions. The class is designed for you to experience diverse dishes and menu components.
Duration:
Generally 3 to 3.5 hours (no guarantee).
Based on our experiences, the average value for this course is 4 hours.
Menu (example):
Chili-Cheeseburger: Rindfleisch-Patty, Chili-Cheese-Sauce, Jalapenos, Eisbergsalat
Shrimpy: Gegrillte Shrimps, Eisbergsalat, Orangen-Aioli
Crunchy Chicken: Hähnchenbrut in Knusperpanade, Gruyère, Feldsalat, Tomaten-Chutney
Double Pork Hawaii: Schweinefilet-Patty, karamellisierter Bacon, frische gegrillte Ananas, Gouda, Ketchup, Romanasalat
Beilage: Süßkartoffelpommes aus dem Ofen
Vorab: Sloppy Joe: Hackfleischsauce, Cornichons, Cheddar