Pimp your vegetables - summer edition
Friday, 3 August 2018 at 19 h
Cooking class in German
Pimp your vegetables - summer edition
New Spices for your Veg
with Lisa Shoemaker
Sempre la stessa minestra? Immer wieder das gleiche?
Überbackene Broccoli, Bohnen mit Speck, Karotten mit Petersilie, Spargel mit Hollandaise, Spinat mit Blubb.?
Es geht auch anders: Jahrelang habe ich Woche für Woche Rezepte für eine Öko-Gemüsekiste geschrieben und ständig neue Gemüsekombinationen ausprobiert. Versuchskaninchen war meine gelegentlich leicht genervte Familie.
Im August ist Hochzeit für Sommergemüse. Tomaten schmecken endlich wieder wie sie sollen. Es gibt grüne Bohnen, die nicht aus Afrika kommen, sogar frische Bohnenkerne. Die berühmte Zucchinischwemme macht Gärtner das Leben schwer. Wir werden eine Gemüsekiste mit regionalem Gemüse von einem Brandenburger Ökohof bestellen und verkochen. Wir machen ein Brainstorming, was alles gemacht werden könnte, und kochen dann die populärsten Vorschläge.
Ich werde eine Reihe von Basisrezepten dabei haben, auf deren Grundlage wir kochen (Brühen, Dipps, Gemüseburger, gefüllte Gemüse, Gnocchi/Knödel, verschiedene Saucen/Dressings, blanchieren, Listen mit Grundaromen verschiedener Küchen, schmoren.). Ich werde nach dem Kurs die Grundrezepte ergänzen und dabei beschreiben, wie wir sie abgeändert haben, um sie dem Inhalt der Gemüsekiste anzupassen.
Damit ihr fürs Brainstorming mit inspirierenden Nährstoffen versorgt seid, starten wir mit:
Menu (example):
Pfirsich-Tomaten Gazpacho
Geschmorte breite Bohnen mit Tomaten
Auberginen mit Miso und Tahin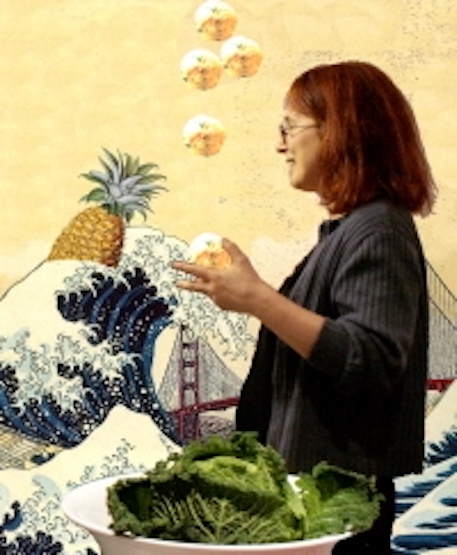 Lisa Shoemaker
Lisa Shoemaker cooks and bakes with children, young people and grown-ups. She also writes and translates cook books. Works: Let's Cook (for young people) and Englisch kochen, as Amerikanisch Kochen from the series Gerichte und ihre Geschichte. She translated among others Cynthia Barcomi's baking books.
Class type:
Cooking in groups — In this class you will form small groups and each group will be cooking some of the dishes listed in the menu. The other dishes will be cooked by your fellow cooking class participants. However, important steps and basic techniques will be demonstrated in front of the entire class and/or practiced together. Of course you will also see and hear what is going on around you and you are very welcome to ask the teacher questions. The class is designed for you to experience diverse dishes and menu components.
Duration:
Generally 3.5 to 4 hours (no guarantee).
Based on our experiences, the average value for this course is 4 hours.
Menu (example):
Pfirsich-Tomaten Gazpacho
Geschmorte breite Bohnen mit Tomaten
Auberginen mit Miso und Tahin