Glorious German Grub: Spring Edition
Cooking class in English
Glorious German Grub: Spring Edition
Seasonal German food featuring asparagus, berries and herbs
with Lisa Shoemaker
Ever wondered why everyone in Germany goes crazy over white asparagus from late April to the 24 the of June (the last day to harvest the white spears)?
Try it in a salad with chervil, or in a wonderful almost forgotten dish with sugar snaps, morels and young kohlrabi in a white wine sauce (and for non-vegetarians with seasonal crayfish), or as the classic version with Sauce Hollandaise.
Seven fresh herbs, e.g. sorrel, borage and burnet, go into the green sauce from the Frankfurt area, probably based on the French sauce verte, which came east with the Huguenots in the 17th century, assimilating by making use of German herbs. Traditionally served with jacket potatoes, eggs or beef, nowadays also popular with schnitzel.
And for desserts we will make Rote Grütze, a far cry from the sweet goo you buy at supermarkets, with fresh berries and vanilla sauce, and bake a red currant meringue.
When possible, we will source all the ingredients from organic farmers.
Menu (example):
White aspargus salad with chervil
White Aspargus, sugar snaps, morels and young kohlrabi in a white wine sauce with seasonal crayfish
White Aspargus with Sauce Hollandaise
Frankfurter 'Green Sauce' with jacket potatoes, eggs or beef or schnitzel
'Rote Grütze' with vanilla sauce
Red currant meringue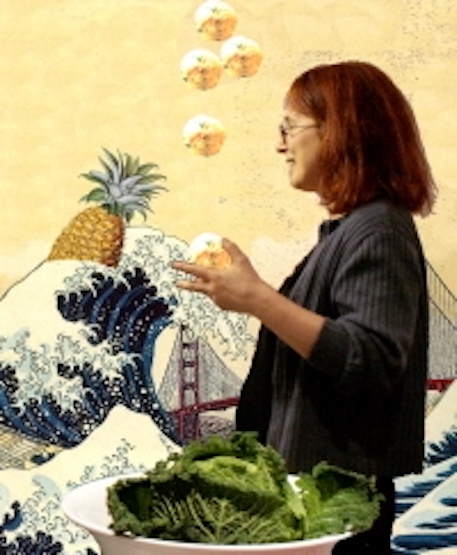 Lisa Shoemaker
Lisa Shoemaker cooks and bakes with children, young people and grown-ups. She also writes and translates cook books. Works: Let's Cook (for young people) and Englisch kochen, as Amerikanisch Kochen from the series Gerichte und ihre Geschichte. She translated among others Cynthia Barcomi's baking books.
Class type:
Cooking in groups — In this class you will form small groups and each group will be cooking some of the dishes listed in the menu. The other dishes will be cooked by your fellow cooking class participants. However, important steps and basic techniques will be demonstrated in front of the entire class and/or practiced together. Of course you will also see and hear what is going on around you and you are very welcome to ask the teacher questions. The class is designed for you to experience diverse dishes and menu components.
Duration:
Generally 3 to 3.5 hours (no guarantee).
Menu (example):
White aspargus salad with chervil
White Aspargus, sugar snaps, morels and young kohlrabi in a white wine sauce with seasonal crayfish
White Aspargus with Sauce Hollandaise
Frankfurter 'Green Sauce' with jacket potatoes, eggs or beef or schnitzel
'Rote Grütze' with vanilla sauce
Red currant meringue