Dim Sum: Das kleine Glück
Friday, April 17, 2020 at 19 h
Cooking class in German
Dim Sum: Das kleine Glück
"Das Herz berühren"
with Yaxin Yang
In China, besonders in Nordchina, ist es undenkbar, ein alkoholhaltiges Getränk zu sich zu nehmen, ohne ein oder zwei Kleinigkeiten dazu zu essen. Egal, ob Bier, Reiswein oder Schnaps getrunken wird, die Chinesen futtern immer irgenwas dazu. Diese Ess-und Trinkkultur, oder Trink- und Esskultur hat sich schon sehr früh entwickelt und ist heute immer noch sehr beliebt und weit verbreitet. Kreative, köstliche Kleinigkeiten mit raffinierten Geschmackserlebnissen werden in großer Vielfalt überall, sowohl in Garküchen auf der Straße als auch in noblen Restaurants und offiziellen Veranstaltungen anbeboten.
Ob Fisch, Fleisch, Gemüse oder Vegetarisch, alle Geschmacksrichtungen einschließlich "Umami" sind vertreten, für jeden ist etwas dabei und immer wird "Dimsum" das Herz berührt! Und, die "China Tapas" machen satt ohne Völlegefühl, sie machen schlicht glücklich! Mit einem solchen Potpourri der chinesischen Küche werden Sie auch Ihre besonders anspruchsvollen Gäste überzeugen, deren "Herz berühren" und zu glücklichen Menschen machen, zumindest zeitweise.
Menu:
Dreifarbige Eier mit Ingwer Sojasauce
Spinat Sojabohnen-Salat mit Sesampaste
Hähnchen-Bällchen und Austernpilzsuppe
Baozi-gedämpfte Hefeteigtasche gefüllte mit Garnelen-Hänchenfleischfüllung und vegetarische Füllung, dazu selbstgemacht Sesam-Chiliöl Sauce
Seidentofu mit Mango (süß)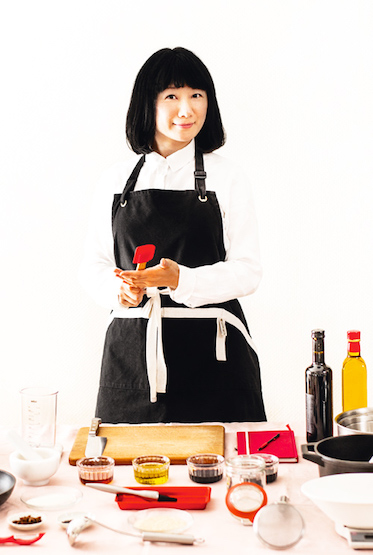 Yaxin Yang
Yaxin Yang, 1977 in Peking geboren und aufgewachsen, lebt in Berlin und Peking. Nach dem Studienabschluss als Dipl. Illustratorin an der HAW Hamburg, ist sie seit 2008 als freischaffende Illustratorin und Kinder- und Kochbuchautorin tätig. Erleben und Experimentieren, authentisches chinesisches Essen mit ausgewählten biologischen und regionalen Zutaten für Gesundheit und Wohlbefinden zu entwickeln ist ihre Leidenschaft und Ausdruck ihres Kochstils. "Die Kochkunst ist meine Welt, voller Lust und Vitalität"!
Mehr über Yaxin Yang: www.soyasoyang.com
Photo: Feipeng Jiang
Class type:
Cooking in groups — In this class you will form small groups and each group will be cooking some of the dishes listed in the menu. The other dishes will be cooked by your fellow cooking class participants. However, important steps and basic techniques will be demonstrated in front of the entire class and/or practiced together. Of course you will also see and hear what is going on around you and you are very welcome to ask the teacher questions. The class is designed for you to experience diverse dishes and menu components.
Location: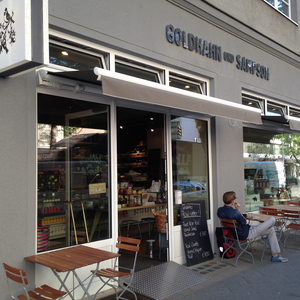 G und S Charlottenburg
Wilmersdorfer Str. 102/103
10629 Berlin
Date:
Friday 17 April, 2020 at 19:00 h
Duration:
Generally 3.5 to 4 hours (no guarantee).
Participants:
max. 16 persons
Menu:
Dreifarbige Eier mit Ingwer Sojasauce
Spinat Sojabohnen-Salat mit Sesampaste
Hähnchen-Bällchen und Austernpilzsuppe
Baozi-gedämpfte Hefeteigtasche gefüllte mit Garnelen-Hänchenfleischfüllung und vegetarische Füllung, dazu selbstgemacht Sesam-Chiliöl Sauce
Seidentofu mit Mango (süß)