Baking Class and Book Presentation "Copenhagen Food" with Trine Hahnemann
79,00 EUR
inkl. 19 % MwSt.
Backkurs auf Englisch
Baking Class and Book Presentation "Copenhagen Food" with Trine Hahnemann
Master Scandinavian classics
mit Trine Hahnemann
Come and join Danish chef Trine Hahnemann for her baking class and learn to master Scandinavian classics – above all the classic Danish rye bread.
Trine will demo how to bake the classic Danish rye bread and will share her secrets about her 30-year-old-sourdough-starter. While the dough for the rye bread has to rest, you will move on to baking crisp bread, which you can enjoy after all work is done at the end of the class, when you will sit together and eat it with smoked cheese from Copenhagen, that Trine will bring for you.
While the crisp bread cools out, you will learn how to make typical Danish pastry - kardamomme snurre (cardamom buns) and Spandauer. Why is a pastry in Denmark called Spandauer, you ask? Well, Trine will tell you the story. And many more about baking traditions, recipes and her personal favorites and tricks. You will be baking with the best organic flour from Kornby Mølle in Denmark, which Trine's team also uses to in the bakery in her food space in Copenhagen.
Menü (beispielhaft):
Rye bread demo and sourdough
Kardemomme snurre
Spandauer
Crisp bread and smoked cheese (coming from Denmark)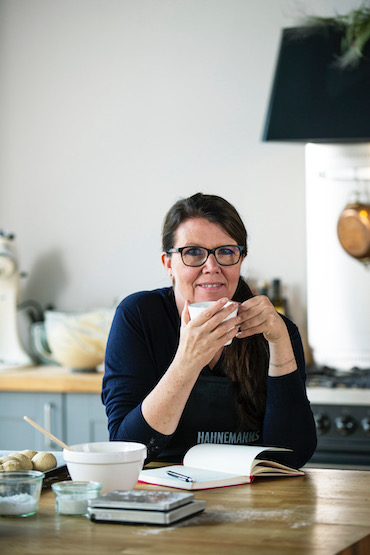 Trine Hahnemann
Trine Hahnemann is a Danish food writer and chef. As the owner and CEO of Hahnemanns Køkken she provides about 3.000 daily lunches with her team in private and public companies in the Copenhagen area. The company focuses on providing good and sustainable lunch.
As chef and food writer, Trine is an advocate for sustainable solutions, organic sourcing and food cooked with love. She travels and regularly talks at conferences and symposia, like here at TEDxKrakow.
Trine's new project, Hahnemann's Køkken, a bakery, coffee bar, pastry shop, food store, cookery school and event space has just opened in Copenhagen. Trine has written ten cookbooks in her native Danish and seven in English: The Scandinavian Cookbook, Scandinavian Christmas, Eat Nordic, Scandinavian Baking, Scandinavian Comfort Food, Open Sandwiches and Copenhagen Food - all published by Quadrille. Her books were translated into German, Dutch and Korean.
Foto: Columbus Leth
Kurstyp:
Teamwork — Mehrere Teams bereiten jeweils einen (manchmal auch zwei) der Menüpunkte zu. Bei wichtigen Schritten, z.B. wenn es um grundlegende Techniken geht, könnt Ihr alle zusammen zuschauen bzw. mitmachen. Natürlich bekommt Ihr auch immer mit, was rechts und links von Euch passiert und dürft den Kursleiter mit Fragen löchern. Auf diese Weise lernt ihr viele unterschiedliche Gerichte und Menü-Bausteine kennen.
Dauer:
In der Regel 3.5 bis 4 Stunden (ohne Gewähr).
Menü (beispielhaft):
Rye bread demo and sourdough
Kardemomme snurre
Spandauer
Crisp bread and smoked cheese (coming from Denmark)