Zutatenverkostung und Einkaufstipps der authentischen chinesischen Küche
Friday, October 21, 2022 at 19 h
Workshop in German
Zutatenverkostung und Einkaufstipps der authentischen chinesischen Küche
with Yaxin Yang
Du kochst gerne chinesisch? Fragst dich aber manchmal wofür und wie man manche Zutaten verwenden soll? Oder welche Unterschiede es zwischen all den Saucen und Ölen gibt? Dann bist du in diesem Kurs genau richtig.
Yaxin stellt dir hier alle wichtige Zutaten vor, die du für das authentisch chinesische Kochen benötigst und wo man sie am Besten kaufen kann. Dabei kocht sie vor Ort ein paar kleine, vegetarische Gerichte mit den vorgestellten Zutaten, die man dann verkosten kann.
Important rules due to Corona
We ask for your understanding that we have to adapt our protection and hygiene concept to the current situation. Please inform yourself shortly before your visit about the current regulations under the following link:
https://docs.google.com/document/d/1N9NuWXmdQa19LCNbbz5qdep-qmvhG63wLo45NlL1jG4/edit?usp=sharing
Menu:
Die chinesische Küche & Gewürze
Pasten, Saucen & Co
Getrocknete Produkte
Gemüse in der chinesische Küche
Getreide, Hülsenfürchten, etc.
Nudeln, Reis & Mehl
Yaxin Yang
Yaxin Yang, 1977 in Peking geboren und aufgewachsen, lebt in Berlin und Peking. Nach dem Studienabschluss als Dipl. Illustratorin an der HAW Hamburg, ist sie seit 2008 als freischaffende Illustratorin und Kinder- und Kochbuchautorin tätig. Erleben und Experimentieren, authentisches chinesisches Essen mit ausgewählten biologischen und regionalen Zutaten für Gesundheit und Wohlbefinden zu entwickeln ist ihre Leidenschaft und Ausdruck ihres Kochstils. "Die Kochkunst ist meine Welt, voller Lust und Vitalität"!
Mehr über Yaxin Yang: www.soyasoyang.com
Photo: Feipeng Jiang
Class type:
Cooking in groups — In this class you will form small groups and each group will be cooking some of the dishes listed in the menu. The other dishes will be cooked by your fellow cooking class participants. However, important steps and basic techniques will be demonstrated in front of the entire class and/or practiced together. Of course you will also see and hear what is going on around you and you are very welcome to ask the teacher questions. The class is designed for you to experience diverse dishes and menu components.
Location: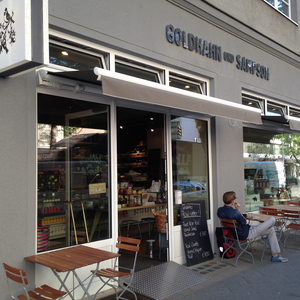 G und S Charlottenburg
Wilmersdorfer Str. 102/103
10629 Berlin
Date:
Friday 21 October, 2022 at 19:00 h
Duration:
Generally 3.5 to 4 hours (no guarantee).
Based on our experiences, the average value for this course is 2.5 hours.
Participants:
max. 16 persons
Menu:
Die chinesische Küche & Gewürze
Pasten, Saucen & Co
Getrocknete Produkte
Gemüse in der chinesische Küche
Getreide, Hülsenfürchten, etc.
Nudeln, Reis & Mehl