Weine aus dem Piemont
Saturday, February 19, 2022 at 18 h
Seminar and tasting in German
Weine aus dem Piemont
Sensorik-Workshop mit Weinen aus dem Piemont
with Florian Minzlaff
Im Winter liegt der Nebel wie eine schwere, weiße Decke auf den Hügeln des Piemont. In dieser Verkostung wird die Decke gelüftet und wir schauen, was sich darunter befindet. Anhand von vier Weinen aus dem Piemont, rot wie weiß, wollen wir das Piemont kennenlernen. Es wird dabei um große Namen wie Barolo & Barbaresco, aber auch um vielleicht noch unbekannte Weine, gehen. Florian schenkt aus, ihr trinkt. Dazu gibt es Geschichten und Anekdoten (Gibt es die Piemont-Kirsche eigentlich wirklich?) aus seiner Zeit in der nebligsten Region Italiens.
Important rules due to Corona
Our courses are exclusively for recovered and vaccinated people who can prove this with a digital certificate (QR code). Without a valid certificate, you cannot attend the course and your ticket will be forfeited without refund. Please be sure to have your certificate and a document of identification ready for verification at the entrance, otherwise we will not be able to grant you admission. Thank you.
We adhere to the daily guidelines of the Berlin Senate for all courses in our culinary school, so changes at short notice are always possible as well as an additional negative test from the same day or a cancellation of the course, if required by the pandemic situation.
Florian Minzlaff
Florian Minzlaff was born and raised in Berlin. As a child of two chefs his path into the world of food and drink was already paved. In his early twenties, he made his way to Italy where he studied Gastronomic Sciences and sampled the countries culinary treasures for four years. There, he couldn't help but develop a passion for wine and the complex world behind it. Since then he's been traveling the world as winemaker, sommelier and storyteller to share his enthusiasm for wine. Now Goldhahn und Sampson let's him do just that.
Photo: Nina Dörner
Class type:
Seminar and tasting
Location: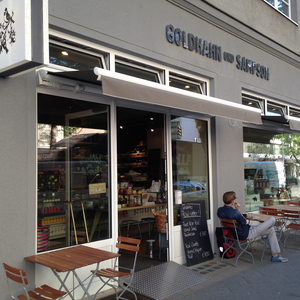 G und S Charlottenburg
Wilmersdorfer Str. 102/103
10629 Berlin
Date:
Saturday 19 February, 2022 at 18:00 h
Duration:
Generally 2 to 3 hours (no guarantee).
Participants:
max. 16 persons