Miss Vietnam: Vietnamese Cuisine
Cooking class in German
Miss Vietnam: Vietnamese Cuisine
Bún Chả, Phở und Chuối nướng
with Mai Thy Hinz
Gesundes und Kraft spendendes Essen hat in Vietnam eine große Bedeutung. Die Gerichte werden meist mit wenig Fett und nur sehr kurz gegart. Viele Kräuter und angenehme Schärfe verstärken den frischen Charakter der vietnamesischen Speisen. Grundnahrungsmittel sind Reis, Reisnudeln und Gemüse. Fisch und Fleisch spielen eine eher untergeordnete Rolle. Ergänzt wird der Speiseplan in Vietnam durch viele westliche Essgewohnheiten der ehemaligen Kolonialmächte. Darunter findet man Baguettes, Croissants und Kaffee - von den Franzosen eingeführt und in abgewandelter Form in die traditionelle Küche übernommen.
Dieses Menü besteht aus den weltweit berühmten Gerichten aus Vietnam. Die Kochtechnik ist unkompliziert, aber etwas ungewohnt. Alle Rezepte sind authentisch und original von meiner Familie.
Important rules due to Corona
We adhere to the daily guidelines of the Berlin Senate for all courses in our culinary school, so changes at short notice are always possible.
To be able to run cooking classes, we've created a protection and hygiene concept with regards to the current situation. Our cooking class assistants will explain to you the rules before the beginning of the course. These are the most important changes:
As only two people will operate a cooking station, you need to book 2 tickets. Single tickets cannot be purchased for the time being, as the participants must be people from the same household or people from an acquainted household. Of course you can join a cooking class on your own, but you would need to buy two tickets and run your own cooking station.
All cooking course participants as well as cooking course teachers and assistants must wear a mouth and nose protector when entering the store, while cooking or when going to the toilet. It is not necessary to wear a mask when eating at the table.
Alcohol is only served at the table during the meal.
While cooking you are not allowed to walk around the kitchen and 'visit' other cooking stations. Due to safety reasons everyone has to stay at their own station.
We have to insist on compliance with our protection and hygiene concept. Our staff will of course help to ensure that everything runs smoothly.
Menu (example):
Bún Chả: gegrillte Schweine-Hackbällchen mit Reisnudeln, diversen Kräutern und Sauce
Phở: Reisband-Nudelsuppe mit klarer Rinderbrühe
Chuối nướng: gegrillte Bananen im Klebreis mit Kokossauce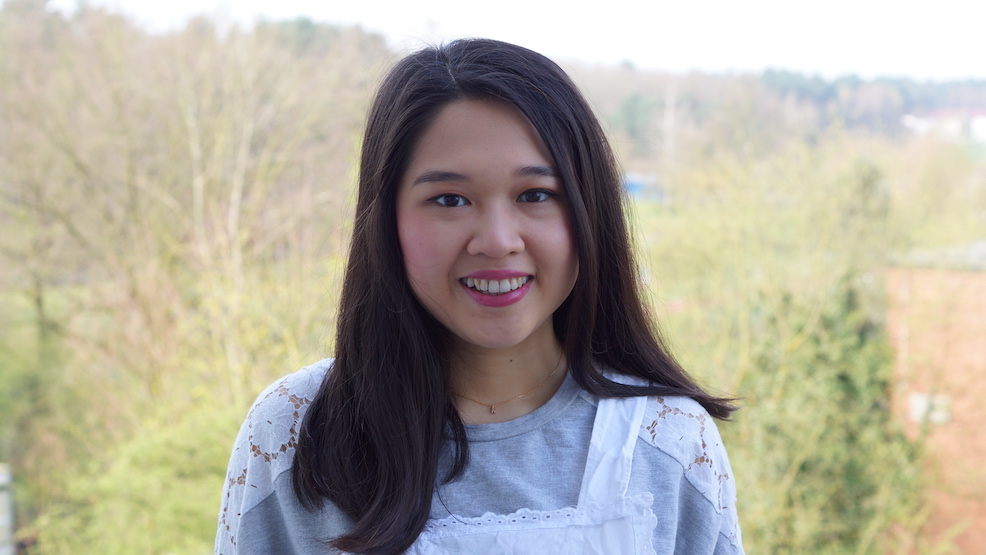 Mai Thy Hinz
Mai Thy Hinz, geboren in Saigon, als Kind einer Kochprofi-Familie. Seit 2017 bietet sie Kochkurse an. Nach Hamburg ist jetzt Berlin Mai Thys Wahlheimat. Den Kursteilnehmern möchte sie ein Stück ihrer Heimat, ihrer Kultur und ihrer Liebe fürs Kochen näher bringen.
Photo: Mai Thy Hinz
Class type:
Cooking in teams of two — In this class you will cook together with a partner (or sometimes 2 partners) at one station. You will be preparing every dish of the menu yourself. Most of the ingredients, already correctly measured, will be waiting for you at your station, so you can start cooking more quickly. Crucial techniques and/or the use of special equipment will be demonstrated by the teacher before you'll have a go yourself. This class is perfect for everyone who likes to have a real hands-on experience.
Duration:
Generally 3.5 to 4 hours (no guarantee).
Menu (example):
Bún Chả: gegrillte Schweine-Hackbällchen mit Reisnudeln, diversen Kräutern und Sauce
Phở: Reisband-Nudelsuppe mit klarer Rinderbrühe
Chuối nướng: gegrillte Bananen im Klebreis mit Kokossauce