Vegetarische Feierabendküche
Wednesday, February 2, 2022 at 19 h
Cooking class in German
Vegetarische Feierabendküche
lecker, alltagstauglich und gesund
with Yogini Hufendiek
In diesem Kurs werden wir ein paar leckere vegetarische Gerichte zubereiten, die so unaufwendig sind, dass sie ohne Stress auch nach einem langen Arbeitstag zubereitet werden können. Grundlage sind Zutaten, die man jederzeit gut bekommt oder die im Kühlschrank auf Verwertung warten.Wenn Ihr Anregungen für gesunde, alltagstaugliche Feierabendgerichte sucht, seid Ihr in diesem Kurs richtig.
Alle Gerichte können auch vegan zubereitet werden.
Important rules due to Corona
Our courses are exclusively for recovered and vaccinated people who can prove this with a digital certificate (QR code). Without a valid certificate, you cannot attend the course and your ticket will be forfeited without refund. Please be sure to have your certificate and a document of identification ready for verification at the entrance, otherwise we will not be able to grant you admission. Thank you.
We adhere to the daily guidelines of the Berlin Senate for all courses in our culinary school, so changes at short notice are always possible as well as an additional negative test from the same day or a cancellation of the course, if required by the pandemic situation.
Menu:
Gratinierter Fenchel mit Ziegenkäse und Tomate
Kartoffel aus dem Ofen, gefüllt mit Paprika-Tomatensalsa, dazu Salat
Gemischtes Ofengemüse auf Röstbrot
Gebackene, marinierte Zucchini mit Zwiebel, frischen Kräutern und Bergkäse
Lauwarmer Cous Cous Salat mit verschiedenem Gemüse
Beeren Crumble mit Schlagsahne
Yogini Hufendiek
Aufgewachsen in Westfalen verbrachte ich die Ferien bei meiner ungarischen Oma, die so leckere ungarische Hausmannskost kochen konnte und in deren Küche magische Gerüche schwebten. Lange Zeit liebte ich das Essen mehr als das Kochen, weil ich das Gefühl hatte, nicht genug darüber zu wissen, was das Kochen ausmacht. Dann wurde die Sehnsucht danach, selber richtig gut kochen zu können immer stärker. Deshalb entschied ich mich, eine richtige Ausbildung zur Köchin zu machen. Nach Jahren auf verschiedenen Posten in angesagten Berliner Restaurants möchte ich in meinen Kursen dazu ermutigen, mehr selber zu Hause zu kochen und die Berührungsängste auf unbekannten Koch-Gebieten zu verringern.
Class type:
Cooking in groups — In this class you will form small groups and each group will be cooking some of the dishes listed in the menu. The other dishes will be cooked by your fellow cooking class participants. However, important steps and basic techniques will be demonstrated in front of the entire class and/or practiced together. Of course you will also see and hear what is going on around you and you are very welcome to ask the teacher questions. The class is designed for you to experience diverse dishes and menu components.
Location: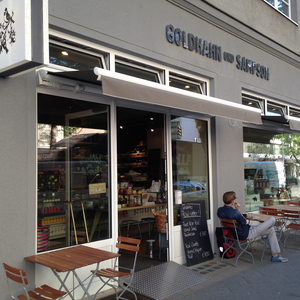 G und S Charlottenburg
Wilmersdorfer Str. 102/103
10629 Berlin
Date:
Wednesday 02 February, 2022 at 19:00 h
Duration:
Generally 3.5 to 4 hours (no guarantee).
Participants:
max. 16 persons
Menu:
Gratinierter Fenchel mit Ziegenkäse und Tomate
Kartoffel aus dem Ofen, gefüllt mit Paprika-Tomatensalsa, dazu Salat
Gemischtes Ofengemüse auf Röstbrot
Gebackene, marinierte Zucchini mit Zwiebel, frischen Kräutern und Bergkäse
Lauwarmer Cous Cous Salat mit verschiedenem Gemüse
Beeren Crumble mit Schlagsahne