Vegan Korean Cuisine in English
Monday, March 28, 2022 at 19 h
Cooking class in English
Vegan Korean Cuisine in English
tasty vegan dishes
with Yurim Byun
If you think of Korean cuisine, you think of big meaty BBQs? Then think again! In this class, you'll learn how to prepare wonderful Korean dishes - all super tasty and vegan! Yurim will show you how to make delicious handmade dumplings and a mouthwatering stew with vegetables and tofu. In addition, you'll prepare stir-fried glass noodles with shiitake mushrooms. A flavourful introduction to vegan Korean cuisine.
Important rules due to Corona
Our courses are exclusively for recovered and vaccinated people who can prove this with a digital certificate (QR code). Without a valid certificate, you cannot attend the course and your ticket will be forfeited without refund. Please be sure to have your certificate and a document of identification ready for verification at the entrance, otherwise we will not be able to grant you admission. Thank you.
We adhere to the daily guidelines of the Berlin Senate for all courses in our culinary school, so changes at short notice are always possible as well as an additional negative test from the same day or a cancellation of the course, if required by the pandemic situation.
Menu:
Japchae - Stir-fried Glass Noodles and Vegetables with Shiitake Mushrooms
Japchae Mandu - Homemade Dumplings filled with Japchae and Tofu
Doenjang Jjigae - Korean Bean Paste Stew with Potato, Zucchini, and Tofu
Yurim Byun
Yurim was born in Seoul, South Korea in 1982. At the age of 9, she began cooking 'Kalguksu', a noodle soup, from scratch without a recipe book. Cooking was a form of playing for the little girl who was an only child. She later went to Japan to study where she started a side job in a Japanese restaurant located in Shibuya in 2004. This experience brought her onto her path to her career as a caterer. Since moving to Berlin in 2012, she has been working in the gastronomy scene. During her second year in Berlin, she became a private chef on 'Kitchensurfing'. In 2014, she decided to start her own catering business called 'Eat me Catering', which focused on authentic Korean cuisine with a modern twist in presentation. "I don't have recipes, I just cook with feelings," says Yurim. As a Korean who was born and raised in Korea, she knows how Korean food should be, as all daughters learn to cook from their mothers. Her unique and distinctive style which she infuses into her dishes, creates something very special. Through her years of experience working as a caterer, she began to understand Berlin food trends and her mission became "Make everyone happy". With her preparations, she focuses on healthy Korean food that includes good nutrition balance, vegan, gluten-free, and superfoods.
Class type:
Cooking in teams of two — In this class you will cook together with a partner (or sometimes 2 partners) at one station. You will be preparing every dish of the menu yourself. Most of the ingredients, already correctly measured, will be waiting for you at your station, so you can start cooking more quickly. Crucial techniques and/or the use of special equipment will be demonstrated by the teacher before you'll have a go yourself. This class is perfect for everyone who likes to have a real hands-on experience.
Location: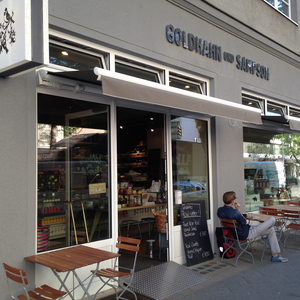 G und S Charlottenburg
Wilmersdorfer Str. 102/103
10629 Berlin
Date:
Monday 28 March, 2022 at 19:00 h
Duration:
Generally 3.5 to 4 hours (no guarantee).
Participants:
max. 16 persons
Menu:
Japchae - Stir-fried Glass Noodles and Vegetables with Shiitake Mushrooms
Japchae Mandu - Homemade Dumplings filled with Japchae and Tofu
Doenjang Jjigae - Korean Bean Paste Stew with Potato, Zucchini, and Tofu
Customers who bought this product also couldn't resist the following: