Vegan Journey to Jerusalem
Tuesday, September 27, 2022 at 19 h
Cooking class in German
Vegan Journey to Jerusalem
Veganes Soulfood aus dem Nahen Osten
with Mirjam Schmid
Israel ist ein kulinarischer Schmelztiegel, welcher die Küchen verschiedenster Nationen miteinander verbindet. Einflüsse aus Europa, Nordafrika und dem Nahen Osten kommen hier zusammen und formen sich zu einer modernen Weltküche.
Tauche in diesem Kochkurs in ein Geschmacksabenteuer voller Düfte, Gerüche und Genüsse ein und entdecke zudem die erstaunliche Vielfalt der fleischlosen Küche. Koche mit Mirjam ein leckeres Menü welches das Gemüse kreativ in den Fokus setzt und erkunde dabei die kulinarische Welt des Nahen Ostens.
Important rules due to Corona
We ask for your understanding that we have to adapt our protection and hygiene concept to the current situation. Please inform yourself shortly before your visit about the current regulations under the following link:
https://docs.google.com/document/d/1N9NuWXmdQa19LCNbbz5qdep-qmvhG63wLo45NlL1jG4/edit?usp=sharing
Menu:
Gerösteter Harissa Blumenkohl mit Haselnuss, gebratene Pilze und grünes Humus, dazu selbstgebackene Pita
Schwarze Bohnen Köfte, Tahinisauce, Rote Bete Taboule und gebratener Fenchel mit schwarzen Oliven und Orange
Kokosnuss Malabi mit Himbeere und Nussknusper
Namora - mit Zitrone getränkter Grießkuchen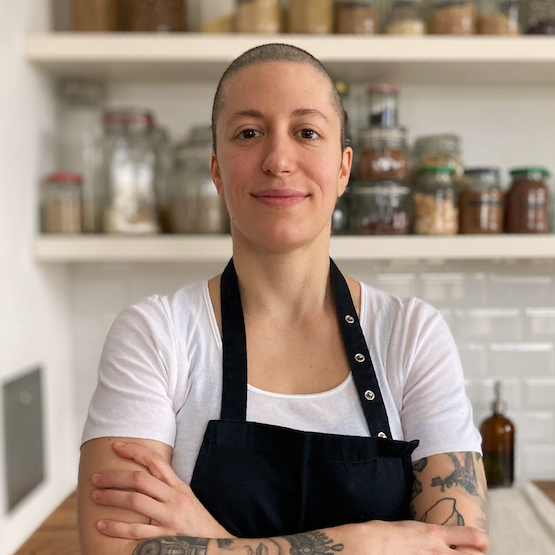 Mirjam Schmid
Von klein an verbrachte Mirjam viele ihrer Sommerurlaube in Israel um ihre Familie dort zu besuchen. Sie war fasziniert von den Farben, Gerüchen und Geschmäckern die es auf den Lebensmittelmärkten in Jerusalem und Tel Aviv zu entdecken gab.
Es sind die Klassiker der jüdischen Küche Europas und die Köstlichkeiten des Orients die ihre Kindheit geprägt haben. Mit siebzehn folgte sie dem Ruf in die Gastronomie und machte in der Schweiz eine Kochausbildung. Für einige Jahre ging sie auf Wanderschaft durch verschiedenste Restaurants und schaute Köchen aus aller Welt über die Schultern. Auch Reisen durch Asien und Indien erweiterten ihr kulinarisches Bewusstsein und heute liebt sie es Kulturen beim Kochen miteinander zu verbinden und was ganz neues dabei entstehen zu lassen.
Photo: Mirjam Schmid
Class type:
Cooking in groups — In this class you will form small groups and each group will be cooking some of the dishes listed in the menu. The other dishes will be cooked by your fellow cooking class participants. However, important steps and basic techniques will be demonstrated in front of the entire class and/or practiced together. Of course you will also see and hear what is going on around you and you are very welcome to ask the teacher questions. The class is designed for you to experience diverse dishes and menu components.
Location: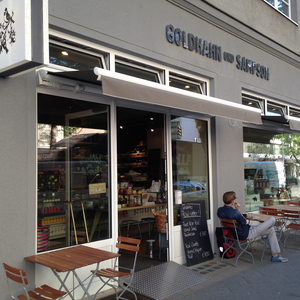 G und S Charlottenburg
Wilmersdorfer Str. 102/103
10629 Berlin
Date:
Tuesday 27 September, 2022 at 19:00 h
Duration:
Generally 3.5 to 4 hours (no guarantee).
Participants:
max. 16 persons
Menu:
Gerösteter Harissa Blumenkohl mit Haselnuss, gebratene Pilze und grünes Humus, dazu selbstgebackene Pita
Schwarze Bohnen Köfte, Tahinisauce, Rote Bete Taboule und gebratener Fenchel mit schwarzen Oliven und Orange
Kokosnuss Malabi mit Himbeere und Nussknusper
Namora - mit Zitrone getränkter Grießkuchen