Vegan Journey to Jerusalem 2.0
Saturday, March 18, 2023 at 18 h
Cooking class in German
Vegan Journey to Jerusalem 2.0
with Petra Rimkus
Important rules due to Corona
We ask for your understanding that we have to adapt our protection and hygiene concept to the current situation. Please inform yourself shortly before your visit about the current regulations under the following link:
https://docs.google.com/document/d/1N9NuWXmdQa19LCNbbz5qdep-qmvhG63wLo45NlL1jG4/edit?usp=sharing
Menu:
Gerösteter Blumenkohl, karamellisierter Radicchio, Kapern & Sesam
Portobello & Riesenbohnenpüree
Knuspiger Rosenkohl & Kartoffel mit Tahini & Pinienkernen
Spinatsalat, Möhre, Granatapfel & Walnuss
Fladenbrot & Zitronen Hummus
Kokoseis, Zimtapfel & Karamell
Petra Rimkus
Petra Rimkus, Jahrgang 75, wurde in der Lüneburger Heide geboren und klaute schon als Kind ihrer Oma die Töpfe und Löffel aus der Küche, um im Garten zu kochen. Damit war ihr Schicksal besiegelt und ihr beruflicher Werdegang vorgezeichnet. Seit 2002 tobt sich Petra in Berlins Küchen aus und hat 2012 ihren eigenen Cateringservice deli.cat gegründet. Seit 2020 betreibt sie zudem das EVE coffee & kitchen und verwöhnt die Gäste mit ihren Leckereien.
Photo: Shay Dashevsky
Class type:
Cooking in groups — In this class you will form small groups and each group will be cooking some of the dishes listed in the menu. The other dishes will be cooked by your fellow cooking class participants. However, important steps and basic techniques will be demonstrated in front of the entire class and/or practiced together. Of course you will also see and hear what is going on around you and you are very welcome to ask the teacher questions. The class is designed for you to experience diverse dishes and menu components.
Location: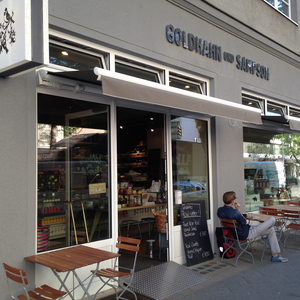 G und S Charlottenburg
Wilmersdorfer Str. 102/103
10629 Berlin
Date:
Saturday 18 March, 2023 at 18:00 h
Duration:
Generally 3.5 to 4 hours (no guarantee).
Participants:
max. 16 persons
Menu:
Gerösteter Blumenkohl, karamellisierter Radicchio, Kapern & Sesam
Portobello & Riesenbohnenpüree
Knuspiger Rosenkohl & Kartoffel mit Tahini & Pinienkernen
Spinatsalat, Möhre, Granatapfel & Walnuss
Fladenbrot & Zitronen Hummus
Kokoseis, Zimtapfel & Karamell