Turkish for Vegetarians
Monday, February 21, 2022 at 19 h
Cooking class in German
Turkish for Vegetarians
Out of Gemüsedöner
with Lisa Shoemaker
Maybachufer am Freitagnachmittag. Aus dünnen, hellroten Plastiktüten ragen Lauchstangen, die Umrisse von Auberginen und Paprika zeichnen sich in prallgefüllten Beuteln ab. Zentnerweise schleppen türkische Frauen Gemüse heim.
Szenenwechsel Döner-Bude: Vegetarisch? Äh, Lahmacun mit geschreddertem Eisbergsalat? Nix gegen türkische Pizza, doch ne Plastiktüte voll Gemüse war da nicht drauf.
Restaurant: Hirtensalat und ohnmächtige Imame. Aubergine mit Tomatensauce (Imam bayildi) ist zwar (fast) immer lecker, aber war das alles?
Was machen denn die Frauen vom Markt mit all dem Gemüse? Zur Beantwortung dieser Frage hat die Kreuzberger Hahn-Köchin Lisa Shoemaker undercover ihre Taille riskiert und sich fett-triefende Gemüse- Döner, Kısır aus dem Plastebecher und mehr oder weniger trockene Kartoffel-Gözleme reingezogen, doch die erhoffte Erleuchtung blieb aus.
Erst die Erpressung von Nachbarn (klar borg ich dir meine Auflaufform, aber nur, wenn du mir zeigst, wozu du sie brauchst) und regelmäßiges Hereinschneien bei Freunden mit Migrationshintergrund (ach, ihr esst gerade?) führten ans Ziel.
Important rules due to Corona
Our courses are exclusively for recovered and vaccinated people who can prove this with a digital certificate (QR code). Without a valid certificate, you cannot attend the course and your ticket will be forfeited without refund. Please be sure to have your certificate and a document of identification ready for verification at the entrance, otherwise we will not be able to grant you admission. Thank you.
We adhere to the daily guidelines of the Berlin Senate for all courses in our culinary school, so changes at short notice are always possible as well as an additional negative test from the same day or a cancellation of the course, if required by the pandemic situation.
Menu:
Meze: würzige Karottenköfte, dicke Bohnen mit Dill, marinierter Lauch, Cacık, Walnuss-Oliven-Salat, Kısır (Bulgursalat), gegrillte Spitzpaprika
Rote Linsensuppe mit Minze
Zweimal Börek: einmal in Zigarrenform und einmal auf dem Blech: Tepsi böreği mit Spinat und geräuchertem Feta
Revani: Pistazienkuchen, ohne Fett und auf mitteleuropäisches Maß reduzierter Zuckergehalt (keine Sorge, er ist trotzdem süß!)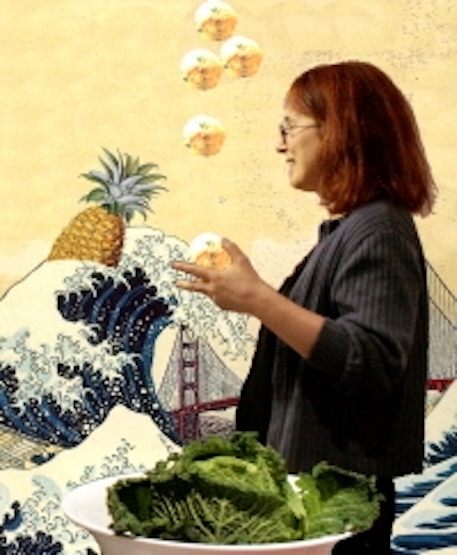 Lisa Shoemaker
Lisa's culinary coming-of-age was multi-cultural long before the term was coined. It was – of course – her mother's fault. As a German language teacher, her mother would invite her students to her big, late 19th century flat in Charlottenburg. The deal was: she bought the booze, the students cooked and little Lisa was delegated to the kitchen to "help". So Lisa chopped chili with Korean nurses – lured to Germany in the 1970s to overcome a shortage –, rolled rice balls stuffed with canned tuna with Japanese students, and after her mother had crossed first North Africa and then Turkey in her Peugeot 404, students from the Southern and Eastern coasts of the Mediterranean steamed couscous, wrapped rice into vine leaves, Israelis and Palestinians bypassed politics and instead discussed whether the chopped salad typical to their region should be called Israeli or Palestinian salad. Lisa did not care, all she knew was that she had encountered herbs and spices that perfectly matched lemon, her favorite ingredient. A lifelong love affair with Middle Eastern food ensued.
Class type:
Cooking in groups — In this class you will form small groups and each group will be cooking some of the dishes listed in the menu. The other dishes will be cooked by your fellow cooking class participants. However, important steps and basic techniques will be demonstrated in front of the entire class and/or practiced together. Of course you will also see and hear what is going on around you and you are very welcome to ask the teacher questions. The class is designed for you to experience diverse dishes and menu components.
Location: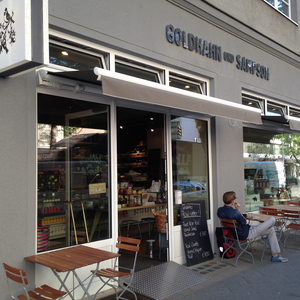 G und S Charlottenburg
Wilmersdorfer Str. 102/103
10629 Berlin
Date:
Monday 21 February, 2022 at 19:00 h
Duration:
Generally 3.5 to 4 hours (no guarantee).
Participants:
max. 16 persons
Menu:
Meze: würzige Karottenköfte, dicke Bohnen mit Dill, marinierter Lauch, Cacık, Walnuss-Oliven-Salat, Kısır (Bulgursalat), gegrillte Spitzpaprika
Rote Linsensuppe mit Minze
Zweimal Börek: einmal in Zigarrenform und einmal auf dem Blech: Tepsi böreği mit Spinat und geräuchertem Feta
Revani: Pistazienkuchen, ohne Fett und auf mitteleuropäisches Maß reduzierter Zuckergehalt (keine Sorge, er ist trotzdem süß!)