Turkish Cuisine in English
Wednesday, August 3, 2022 at 19 h
Cooking class in English
Turkish Cuisine in English
Turkish Food meets English Tongue and German Wine
with Lisa Shoemaker
No, we're not having tongue, the class will be held in English ;)
Berlin abounds with Turkish snacks at every street corner – döner, gözleme, lahmacun - but there are surprisingly few restaurants with good Turkish cooking that venture beyond meat. Sometimes the resourcelessness of chefs is glossed over with folkloristic performances (aka belly dancers). Though perhaps you just ordered the wrong dishes.
I fell in love with Turkish food (I had never been a great döner enthusiast) in an imbiss cum semi-restaurant (i.e. a few formica tables in a dimly lit back room) in Kreuzberg, now long gone. They had the usual menu you'd find any place, plus two house specialties. On my first visit I ordered one of them – fantastic – and on my second the other – even better. Then I got bold and ordered from the regular menu – and got the same okay-ish, forgettable food that is served anywhere else. However, I was convinced there had to be more interesting Turkish dishes and on my quest for Turkish food I sampled loads of egg plant dishes, compared tripe soups, went reconnoitering in Turkish markets. And thank God for friends, friends of friends and neighbors who will share food and recipes (though the latter usually involves a long distance call to a Granny in Turkey).
So here are some highlights from my collection:
Important rules due to Corona
We ask for your understanding that we have to adapt our protection and hygiene concept to the current situation. Please inform yourself shortly before your visit about the current regulations under the following link:
https://docs.google.com/document/d/1N9NuWXmdQa19LCNbbz5qdep-qmvhG63wLo45NlL1jG4/edit?usp=sharing
Menu:
Kısır (bulgur salad)
Pomegranate-walnut-olive salad
Beet root salad with tahin
Squid stuffed with pine nuts, currants and herbs
Tepsi Böreği (casserole style börek)
İskender kebab (first had at one of those formica tables)
Revani (delicious pistaccio cake – though not quite authentic, I'll have to admit: I adjusted the amount of sugar to what I think is sweet enough)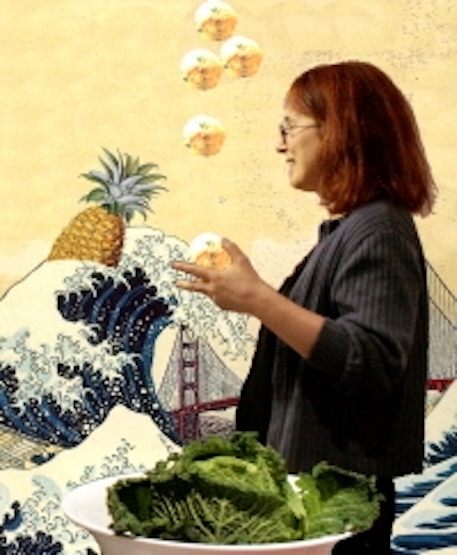 Lisa Shoemaker
Lisa's culinary coming-of-age was multi-cultural long before the term was coined. It was – of course – her mother's fault. As a German language teacher, her mother would invite her students to her big, late 19th century flat in Charlottenburg. The deal was: she bought the booze, the students cooked and little Lisa was delegated to the kitchen to "help". So Lisa chopped chili with Korean nurses – lured to Germany in the 1970s to overcome a shortage –, rolled rice balls stuffed with canned tuna with Japanese students, and after her mother had crossed first North Africa and then Turkey in her Peugeot 404, students from the Southern and Eastern coasts of the Mediterranean steamed couscous, wrapped rice into vine leaves, Israelis and Palestinians bypassed politics and instead discussed whether the chopped salad typical to their region should be called Israeli or Palestinian salad. Lisa did not care, all she knew was that she had encountered herbs and spices that perfectly matched lemon, her favorite ingredient. A lifelong love affair with Middle Eastern food ensued.
Class type:
Cooking in groups — In this class you will form small groups and each group will be cooking some of the dishes listed in the menu. The other dishes will be cooked by your fellow cooking class participants. However, important steps and basic techniques will be demonstrated in front of the entire class and/or practiced together. Of course you will also see and hear what is going on around you and you are very welcome to ask the teacher questions. The class is designed for you to experience diverse dishes and menu components.
Location: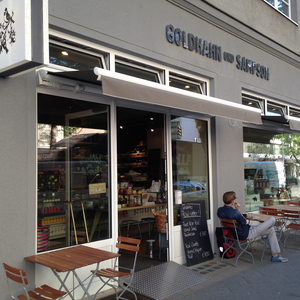 G und S Charlottenburg
Wilmersdorfer Str. 102/103
10629 Berlin
Date:
Wednesday 03 August, 2022 at 19:00 h
Duration:
Generally 3.5 to 4 hours (no guarantee).
Participants:
max. 16 persons
Menu:
Kısır (bulgur salad)
Pomegranate-walnut-olive salad
Beet root salad with tahin
Squid stuffed with pine nuts, currants and herbs
Tepsi Böreği (casserole style börek)
İskender kebab (first had at one of those formica tables)
Revani (delicious pistaccio cake – though not quite authentic, I'll have to admit: I adjusted the amount of sugar to what I think is sweet enough)